Everyone needs to see Lake Louise in Winter.
You might have heard that summer is the best time to visit Lake Louise, and yes, that's a tough position to argue against; the impossibly turquoise water and breathtaking hikes (like the Big Beehive) have made it a bucketlist destination to travellers for well over a century.
BUT I'm here to tell you that Winter at Lake Louise is the real adventurer's playground. Sure, that beautiful blue colour disappears, and yes, most of the hikes are closed, but what you get in return is a winter wonderland straight out of the movies!
Winter at Lake Louise offers a variety of events and things to do, so this post is an attempt to list as many as we can think of! Here goes:
This post contains affiliate links, but as always, all opinions are our own!
Winter Activities at Lake Louise
Ice Skating at Lake Louise
For anyone that's ever dreamt about skating on a frozen lake, skating on Lake Louise is absolutely as good as it gets, and arguably the best in the Canadian Rockies. The view of the Victoria Glacier is the ultimate backdrop, and the size of the rink means you'll have plenty of space to work up some speed, pick up a game of hockey or (like me) crash into a bank without worrying about bumping into anyone else.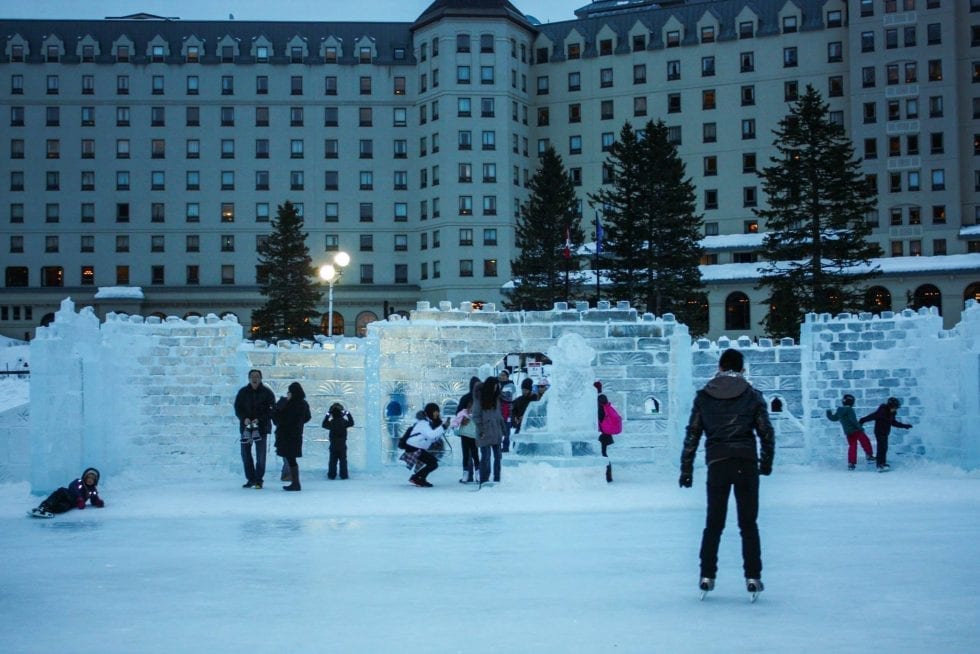 Although you can find plenty of skating rinks in Banff National Park, Lake Louise is really the only lake rink in Banff that's actively maintained, so it's not surprising that it's so popular!
Aside from the views, you're just steps from the Fairmont where you can run inside and grab a hot chocolate (or Baileys), fondue or afternoon tea as soon as your toes start to get cold. Actually, if you don't want to run inside, you can grab a drink from the ice bar and sit under one of the heaters or by the fire pits at the side of the lake.
Skates can be rented from the Fairmont for $20 for 2 hours ($30 for the day), or from Wilson Sports in Lake Louise Village for $12 per day. Hockey sticks are $6.
Snow Shoeing at Lake Louise
Lake Louise is one of the best places in Banff to go snowshoeing. There are plenty of maintained trails in the area that are safe and fun to explore.
There are in fact, 6 major snowshoe trails that are listed for the Lake Louise area, and having done them all in winter or summer, they're well worth exploring!
Lakeshore trail – 4 km return, no elevation gain
Fairview Lookout –2 km return, 100 m elevation gain
Louise Creek – 5.6 km return, 195 m elevation gain
"Highline" Trail to Paradise Creek –9 km return, 60 m elevation gain
Mirror Lake Via Lake Agnes – 5.4 km return, 295 m elevation gain
Taylor Lake – 12.6 km return, 585 m elevation gain
My personal favourites are Mirror or Taylor Lake.
You can also snowshoe up to Peyto Lake on the Icefield Parkway. This is probably one of the more beautiful views in the Rocky Mountains, but often snowshoes aren't necessary.
You can learn more about the trails on the Parks Canada site. Please read to learn more about avalanche risks for each route.
Again, you can rent snowshoes from Wilson Sports in Lake Louise for $10.
Cross Country Skiing at Lake Louise
Last time we stayed at Lake Louise for the Torchlight festival at Lake Louise ski hill, we ended up cross country skiing across Lake Louise the following day.
The track is set and it's completely and utterly flat as a pancake. No trouble whatsoever if you're a beginner; it's the perfect place to learn!
Keep to the right of the lake and follow the route all the way to the frozen waterfall at the back of the lake! If you want to add a bit of difficulty, then you can take the up and down route back through the trees.
Cross Country skiing takes some getting used to but it's actually a lot of fun and quite funny if you're in a group of complete beginners. Be prepared to fall over a couple of times!
If you want to try somewhere a little more challenging, then we can recommend the Pipestone area across the highway or the Moraine Lake access Road. Both are a little steeper so will require some braking ability, although we tackled Moraine Lake Road on our first ever attempt and just about lived to tell the tale! Definitely a little scary though!
There are 11 trackset trails for Cross Country skiing in the Lake Louise area, with an additional 6 if you include the Bow Valley Parkway and Pipestone areas. Some are challenging, others are very straightforward and flat. Again, check out the Parks Canada site for more trail info.
Ice climbing
Ice climbing is one of the most incredible things that we're blessed to have here in the Canadian Rockies. It might sound scary but having tried ice and regular rock climbing, I can tell you that Ice climbing was, personally, much more intuitive and easier. No finicky hand holds, just a good grip on the ice axe and some sturdy crampons stuck into the ice.
We've been ice climbing in Johnston Canyon and in Jasper, but haven't managed to get around to the frozen waterfall at the back of Lake Louise yet. It might be too advanced for a first outing, but if you take a multi day tour or this isn't your first time, then it's well worth looking into!
Skiing at Lake Louise Ski Resort
It seems obvious to mention, but in case you weren't aware, Lake Louise has some of the best downhill skiing terrain in the world. It has 156 spectacular runs, 10 chair lifts, 990m elevation, and on a clear day, incredible views of Lake Louise across the highway.
Louise and I often talk about our favourite ski hills, and for Louise it's always Lake Louise (she might be biased though as she's actually named after Lake Louise). I'm still a huge fan of Kicking Horse and Sunshine Village, but Lake Louise on a powder day is hard to beat!
Read more about our Ultimate Guide to Western Canadian Ski Hills for a few other options in the Canadian Rockies!
Where to buy cheap lift passes for Lake Louise Ski Resort
Tickets for Lake Louise cost $124, but it's far cheaper to buy a Lake Louise plus card for $99 (1st, 4th and 7th days are free – ends December 24).
Better still, buy a Mountain Collective pass for $529 USD, and you'll get 2 day passes at Lake Louise, as well as 2 at Revelstoke, 2 at Sunshine Village and 2 days at another 15 resorts around the world. Amazing value for money!
P.S you can also get really cheap lift tickets at Costco!
Tubing at Lake Louise
Tubing is another fun activity for those that don't necessarily want to do anything too active in the mountains but still want to get their hearts pumping!
If you haven't heard of it, tubing is when you sit in a giant inflatable donut and get pushed down a snowy hill. They have tubing at Sunny Tube Park at Lake Louise, but you can also go tubing at Norquay ski hill.
You can generally go down as many times as you like but we tapped out after 2 or 3 goes. It's pretty fun and costs $31 for adults, $26 for 13-17's and $20 for kids. If you already have a ski pass, you can upgrade for $10 for adults and $5 for kids. It's also free for season pass holders!
Check here for more details and updated prices.
Sleigh Rides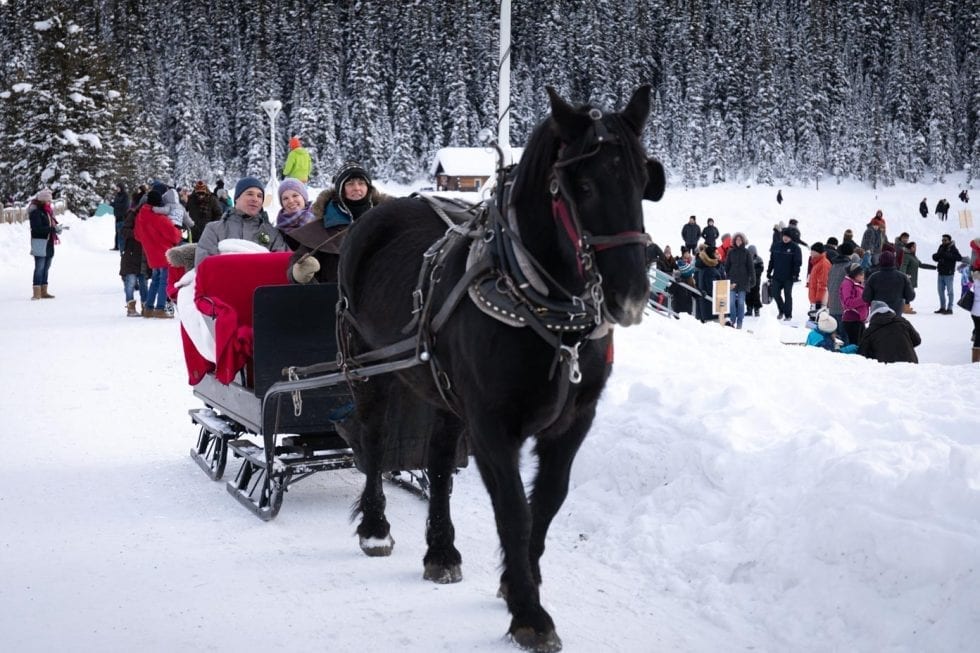 This is by far the least active of the activities, and something that everyone can get involved with. Climb under a blanket and take a sleigh ride to the back of Lake Louise. It's pretty romantic for couples and lots of fun for families. Zero fitness required!
You can ride the large sleigh for $45 per person (not private) or take the private couples' sleigh for $450 per hour. You can book with Brewster Adventures here.
Tentative opening date for 2019 is December 19th.
Afternoon Tea in the Fairview Lounge
This one isn't outdoors at all, but still one of our favourite things to do in winter in Lake Louise.
There's nothing better than sitting by one of the huge windows in the Chateau and enjoying a fancy afternoon tea. Something about it just seems so quintessentially 'Lake Louise', and you can almost picture guests doing the exact same thing here a hundred years ago.
I don't know of a better way to escape the cold and the crowds, and if it's in the budget, it's definitely worth doing!
Choose from over 35 different teas, and enjoy a tower of finger sandwiches, cakes and scones in the newly renovated Fairview Lounge.
Afternoon tea starts at $56CAD per person, with bubbly costing a bit more. You can check out the full food and tea menu here.
Reservations must be made directly by calling +1 403 522 1817.
Events at Lake Louise this Winter
There are actually many events happening this winter at Lake Louise, and you can find a full list here.
There are two events that we do think are worth mentioning though, and those are the Ice Magic International Ice Carving Festival and the Torchlight Dinner and Ski.
Here's everything you need to know about them!
The Ice Magic International Ice Carving Festival
The Ice Magic Festival is an annual ice carving contest at Chateaux Lake Louise. Each year teams from around the world compete to create the perfect ice sculpture in various events; including the one hour speed ice block carving challenge. The end result is breathtaking, and 100% worth checking out.
The ice sculpture festival is held this year from January 15 – 26, 2020.
Guests at any of the following hotels are allowed in for free:
(check links above for rates and availability)
It's also 60% off if you're staying in any hotel or BnB in Banff. They should provide you with a booking code on request.
Ice Magic Festival Ticket Prices:
The only time the Ice Magic festival costs money is on the weekend between 10am and 5.30pm. The rest of the time, it's free!
Book online early and you get 25% off!
Aside from the ice sculpture contest, an enormous Ice castle is erected every year on the frozen lake. It's a great spot for photos and kids absolutely love it.
The Torchlight Dinner and ski
Last year, a group of us attended and had an absolute blast. Catch the last lift of the day, grab a quick drink and a snack at the top and then ski down the hill in the dark!
Once you're at the bottom, fill your belly with a gourmet buffet and party the night away with a live band. We had such a good time, we'll almost certainly be making it an annual tradition!
You can read more about our experience at last year's torchlight dinner here.
This year's Ice Magic Torchlight special is Friday, January 24, 2020, and costs $89+GST for adults, $59 for kids (if you want to ski).
If you just want to eat and party at the bottom, it's $78+GST for adults and $54+GST. It's definitely worth doing the skiing! Book your tickets here!
Where to stay in Lake Louise in Winter
Fairmont Chateaux Lake Louise
There are several great hotels in Lake Louise, but to be right in the heart of all the action, of course the Fairmont Chateau Lake Louise is your best bet. It has everything you could ever need, complete luxury and one of the best views in the world. It doesn't get much better!
Check here for rates and availability.
Deer Lodge
Deer Lodge is actually one of our favourite hotels in Banff. It undoubtedly has the best hot tub we've ever seen, and the food from the Mount Fairview Dining Room ranks right up there with our favourite restaurants. The rooms are a little less luxurious, but you're still only a stones throw away from Lake Louise (within walking distance).
Check here for rates and availability.
Lake Louise Inn
This would be our third choice of accommodation in Lake Louise, as it's less expensive but still offers great quality. We recently stopped in at the Explorer's Lounge after a long day in the mountains and found their pub grub to be excellent and reasonably priced.
It's not up by the lake but down in the village, so you'll need transport to visit Lake Louise itself.
Check here for rates and availability.
Honourable mention must also go to the Post hotel which has one of the best weekend brunches in the Canadian Rockies!
Overall
There you have it, 10 incredible things to do in Lake Louise in the Winter. There'll be a whole different list for the summer too, so make sure you come back again in 6 months!
Overall, Lake Louise is an incredible place to spend one or several days in winter. It's truly a winter paradise worth checking out, especially if you try out a few winter sports!
Pin This!