So you've seen Moraine Lake… Now what?
Almost everyone that visits Banff and the Rockies will end up visiting Moraine Lake.
Fair enough, it's kind of tough to get near it in Winter (unless you XC ski), but if you come between late May and the October/November time, it's going to be the first thing on your list.
It's THE postcard photo you get to take home and brag about.
2023 Shuttle bus update: Tickets for the Lake Louise and Moraine Lake Shuttle buses will now only be available by making an online reservation in advance. In 2023, it will no longer be possible to purchase a walk up spot for either bus. Tickets for the 2023 buses will be released on April 1, 2023; please check the Parks Canada Website and register for email alerts for important updates.
Ok let's fast forward to your trip. You've got up to Moraine and you've just taken your photo… now what?.. Back down to Lake Louise again like the other tourists? Not so fast!
If you're willing to work a little for a view, then there are heaps of other things to see in the area. Some are suitable for all abilities, some are seriously hard work, and some… well let's just say you might want to pack some spare underwear.
There's something for everyone, and if you're only here once you really owe it to yourself to explore the area a little more before you leave.
Here's a quick video we made of a few of these hikes!
So without further ado, are our 7 favourite hikes at Moraine Lake. Let's start with the easiest first:
Larch Valley.
Aside from the insane views and the beautiful lakes, one thing that the Rockies are famous for are its Larch Pine trees.
Larches are a special high altitude pine tree that turn bright yellow/orange in Autumn, and every year people come from all around the world to witness it.
Imagine a forest of bright yellow Christmas trees and you'll understand why this is so special!
What does this have to do with Moraine Lake? Well, normally Larches are quite high up and take a lot of hiking to reach. Not this time!
The Larch Valley hike is one of the few places where they're accessible to virtually everybody, regardless of your fitness. Note – the window for seeing the leaves turn is usually about 2 or 3 weeks in Mid/late September, and this hike gets CRAZY during that time!
The hike starts at the base of Moraine Lake. It's about 45 minutes – 1 hour if you're going at a strong pace, and it's pretty steep switchbacks from start to finish.
Totally worth it though and one of the easier hikes you'll find in Banff. For more information, check out our post on the best places to see fall colours in Banff.
Consolation Lakes
This hike also starts from the bottom of Moraine Lake.
Follow the path up to the rockpile, but instead of going all the way up the steps, stay left and head into the valley beyond.
This is a super easy hike with only 60m elevation gain and only 6km round trip. It generally takes about 1-2 hours round trip, depending on your pace.
The hike winds through the forest, following a glacial fed stream that eventually leads to a large boulder field and a beautiful crystal clear lake. If you've seen our photo and think the water might be warm? Think again.. this stuff is freezing all year round!
This hike is typically covered in snow well into June (Click the link to see how hard it can be with snow!), so either pack snowshoes, or wait until a little later in the season (August/September).
Grizzly bears are known to frequent the Moraine Lake area, so often this hike (and the Larch Valley hike) require people to hike in groups of 4 or more. Something to bear in mind (no pun intended) if you're travelling to the area alone.
Eiffel Lake
This year we decided to check off one more Moraine Lake hike from our bucketlist; Eiffel Lake. This is another beautiful larch hike that's quite popular in Autumn, yet for some reason far fewer people do it compared to Larch Valley.
To reach Eiffel Lake, follow that same route as Larch Valley, but just as you reach the top of the switchbacks, continue along the trail to the left, instead of turning right up into Larch Valley.
From here, the trail has very little elevation gain, and the route follows beneath the valley of the ten peaks. The trail sweeps past a huge Larch forest, and eventually takes you above Eiffel Lake. From here, you can continue onwards to Wenkchemna Pass, or hike Wastach Peak.
Sentinel Pass
Sentinel Pass is a continuation of the Larch Valley hike, and will take you even higher for yet more incredible views of the larches and epic views of the Valley of the Ten peaks (732m elevation). It's a 12km hike (round trip), and relatively easy after you've reached Larch Valley.
This is also the first half of the Mt. Temple scramble.
If you're looking to do a longer hike but aren't up for anything too steep or too scary, this one would be a great one to start with.
Tower of Babel
This is probably the most unique view of Moraine Lake, but it's going to take some effort to get there!
This is a 2 hour scramble (one way) that starts right at the base of Moraine Lake, heading straight up a scree gulley at an almost 45% angle. Not for the faint of heart, but a huge achievement if you can make it!
No climbing experience or equipment required (apart from a helmet!), but this is definitely a scramble.. meaning there are times where a fall would lead to serious injury or worse.
Having said that, we've seen people in jeans and converses doing it just fine (but seriously not recommended). Again, not something to do in Winter or Spring as snow makes it significantly harder/impossible.
If you make it all the way, make sure you check out the tv and couch that past visitors have built out of loose rocks!
Eiffel Peak
This one is a monster, and one of the few mountains in the area above 10,000ft. If you're going to try it, make sure you set off early and leave yourself plenty of time to get up there! It's a 6 hour and 11.3km round trip.
This is another mountain that'll give you a birds eye view of Moraine Lake, and it's yet another hike that begins in Larch Valley. Head through Larch Valley, cross the mini stream, and start to scramble up the rockfield at the base. Check here for some more solid hiking instructions!
For someone that grew up at sea level, the altitude on this one is pretty dizzying, and you'll want to pack a helmet here too.
This is a great one if you're fit and are really looking to challenge yourself. It's also one of the biggest mountains that you can summit in the area without any mountaineering experience, although it is definitely a scramble towards the top.
The views at the top are out of this world, and it's even more rewarding when you've worked that hard for it.
Mount Temple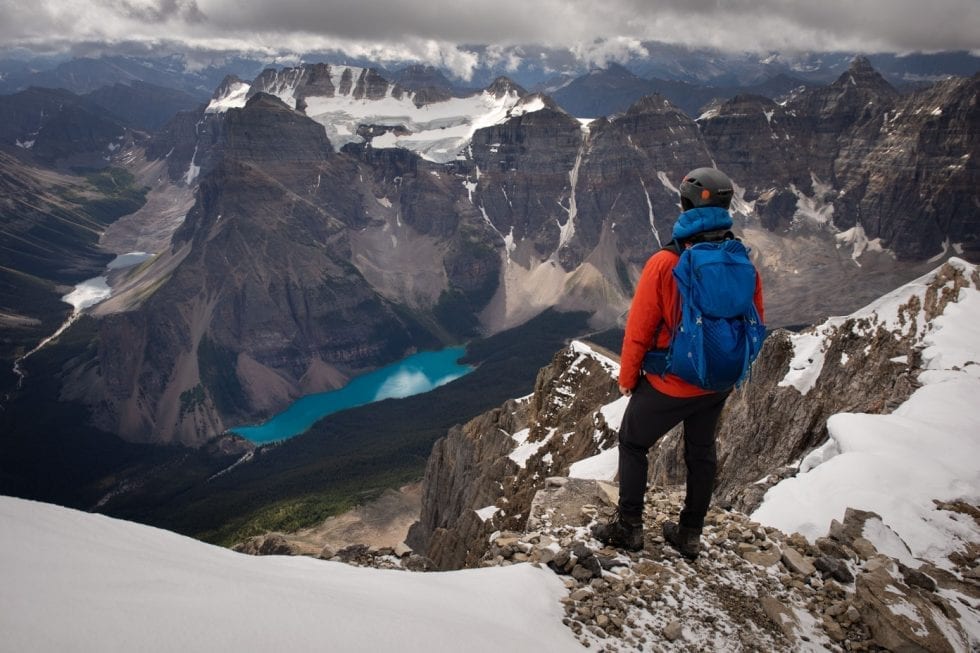 This is the tallest mountain in the area (approx 11,600 ft), and a seriously challenging scramble. It's an absolute monster and even towers over Eiffel Peak.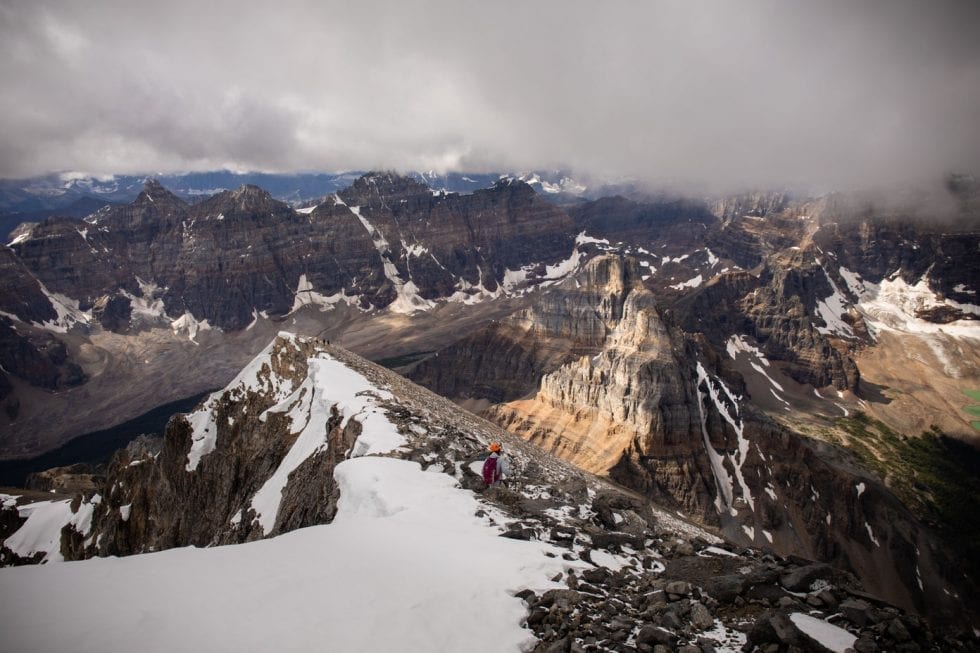 Temple has a very narrow window for completion each year as the snow is very slow to melt.
In fact, there's a year round glacier on the top! The views are epic and you'll get a 360 view of the entire Bow Valley, including amazing views of Moraine Lake and Consolation Lakes from above.
This summer, we decided to finally tackle Mt. Temple, and it was utterly mindblowing.
It's rated as a difficult scramble, and this is because there are a couple of small cliff bands that have significant exposure. There are a couple of sections with 10-15ft of exposed rock that you'll need to climb. It's not too difficult, but it's not suitable for all abilities.
Aside from that, it's mostly challenging because it's so enormous.
The last third of the mountain is a large scree field that takes a lot of energy to clear, especially with the high altitude!
If you're serious about climbing and hiking in Banff, this one has to go on the bucket list.
What else is nearby?
While you're in the area, you should also make sure you check out some of the incredible hikes at Lake Louise too! You can even walk from Moraine Lake to Lake Louise via Paradise Valley if you're up for a HUGE day of hiking. There are 10 amazing hikes that begin at the shores of Lake Louise, not to mention the hikes across the road that begin at the Lake Louise ski hill area.
Start checking them off!
So now you know! There are tons of great hikes that start at Moraine Lake (and these are just 6 of them!), so there's no excuse for leaving without having done one (unless you're here in winter when you can't actually access Moraine)!
If hiking isn't your thing then why not check out our 100 things to do in Banff post instead!
Let us know how you get on, and if you have any other questions feel free to drop us an email or leave a comment!
Pin this!
Need to find a hotel?
Check out our "Ultimate Guide to Hotels in Banff and Lake Louise"