After I realised our top ten things to do in Lake Louise guide was probably missing a few things, I decided to go back to the drawing board and add a LOT more awesome activities!
There are actually dozens of things to do in Lake Louise in Winter, even though it's just a tiny little hamlet! Be warned, most things involve getting outdoors in the cold winter air, or getting some exercise, but there are still a few things you can do indoors as well.
Without beating about the bush too much, here are 41 awesome things to do in Winter in Lake Louise (I'll add more if I can think of any more!)!
By the way, if you're looking for things to do in the summer, make sure you check out our guide to all the best hikes in Lake Louise as well!
41 Amazing things to do in Lake Louise in Winter – the ultimate guide!
1. Ice skate on Lake Louise
So there are two types of skating at Lake Louise; the groomed rink that is maintained throughout the winter, and the wild ice that you can occasionally skate at Lake Louise at the beginning of winter.
For the regular rink, not much planning is needed. The hotel maintains two rinks each year, both located directly in front of the Fairmont Lake Louise hotel. They're super easy to find, and the ice is generally great quality and freshly 'zambonied' each day. Usually the rink isn't ready until late December, to give the ice a chance to get thick enough.
The only downside is that literally everyone comes here to skate and the crowds on the ice can be a little crazy. There are a lot of beginners here, so be cautious of your surroundings.
For wild ice, timing is everything and you really have to catch the ice right at the beginning of the season. Usually it doesn't take long for the snow to cover the ice, so you have to be ready to go out immediately when it freezes. This year (2023), we were super lucky and the wild ice lasted for weeks, but other years it has only lasted a single day.
The other thing to know about wild ice is that if you're going early in the season, there's a good chance that the ice is still quite thin. There is significant risk to doing this if you are not prepared with the right equipment to test the ice thickness and to rescue yourself. Exercise extreme caution.
But if conditions are right, there is nothing more amazing than skating smooth, wild ice at Lake Louise!
2. Play a pick up hockey game on Lake Louise
While one of the ice rinks is for actual skating, the other is designated as more of an ice hockey rink. There are goals and if you have a stick, you can come and whack a puck around on the lake. If you are feeling confident, you can round up a few players and play a quick pick up game.
In previous years, there has also been the annual Lake Louise Pond Hockey Classic tournament, where you could enter a team for a hockey tournament, but since Covid, this hasn't really come back yet. Watch this space for updates!
3. Walk the Lake Louise Lake shore
Walking around the Lake Louise lake shore is a classic thing to do in both summer and winter. It's an easy, extremely flat walk to the far end of the lake, that takes in the picturesque mountain views under a beautiful forest canopy. If you can make it to the far end, you can also enjoy the beautiful frozen waterfall above, where climbers often ice climb.
If you continue onwards at the end of the lake, you can connect with the plains of the 6 glaciers trail and cut back towards the Big Beehive in a less risky avalanche route, although you will need the trail map to find the correct route here.
If you're just looking for a chill winter walk, there's nothing better than this lakeshore trail.
Typically you won't need any special equipment. The trail is well packed and usually just snow covered with reasonable grip.
Make sure you bring cold weather gear though!
4.Walk to Fairview Lookout
This is the best bang for your buck short hike in Lake Louise, and you can do it in both summer and winter. The majority of the trail takes you through the forest, so you won't have any views until the last couple of feet of the trail. But when you do reach that final viewpoint, you get a fantastic view of the Fairmont Chateau Lake Louise and the Lake Louise Ski area behind.
The route is 2.3km round trip with 149m elevation.
It should take about a half hour each way, but will vary depending on conditions and your pace.
This does have some mildly steep sections, so you may do well to bring ice spikes for the hike, especially for the way down.
5. Cross country ski to Moraine Lake
Moraine Lake Road is still considered to be in the Moraine Lake area, and it's well worth exploring in the winter.
But here's the thing, you probably won't make it to the actual lake, but you will get to a viewpoint with some epic views of the Valley of the Ten Peaks.
The Moraine Lake road is about 14km from the turnoff to the Lake itself, but in the winter, the cross country ski track is set for only the first 11km. Beyond this, the trail crosses below the mighty Mount Temple, and several pretty large avalanche runout areas. This makes the winter avalanche risk significant and not really worth the risk. Once the track set trail ends, the snow gets a lot deeper, so trying to make your own way to the lake will be hard work.
Also, the lake is frozen and covered in snow in the winter, so it's a far more interesting place to explore in the summer. Make sure you check out our guide to Moraine Lake Hikes here.
The cross country skiing up the Moraine Lake road is all uphill one way and all downhill on the way back. It's very high speed on the way down but a lot of fun!
I have fallen over many times, because I'm not a great cross country skier, and the run is a little advanced for me. But it's really fun to attempt anyway!
XC skis can be rented in Lake Louise Village at Wilson Sports.
6. Cross Country ski the trails at Lake Louise
Yes you can also cross country ski the actual lake itself at Lake Louise. This is a far, far easier experience than the Moraine Lake Road, as it's 100% flat and track set.
This is a great alternative to walking the length of the lake, as it's quicker and gets your blood going!
You can rent cross country skis from Lake Louise Village, or from Banff (for cheaper rentals).
7. Snowshoe the trails around Lake Louise
For most trails at Lake Louise, you really don't need snowshoes. Most trails are really well packed down and the snow isn't deep enough to require them, but there are definitely designated snowshoe trails.
One of the best ones to explore is the Louise Creek trail down by Lake Louise Village, or the "Highline trail to Paradise Creek". This will take you along a horse trail that gets you into the mountains and away from the crowds. It's considered a blue run that's about 9km in total and 60m elevation gain.
Here's a full list of the Lake Louise trails.
8. Take part in the famous Loppet race at Lake Louise
The Loppet is a very long standing annual cross country skiing race/event that begins at Lake Louise and originally ended in the town of Banff.
Now it is a bit shorter at 36km, and is typically done as a relay with 4 legs, but you can do it by yourself or with up to 4 racers in a team. The hardest section, by far, is the first bit down from Lake Louise to Lake Louise Village, because that is one BIG hill. A friend of mine said he crashed into the trees 3 times on that leg!
In its current format, the race runs from Lake Louise to Castle junction, and anyone can enter. The race typically runs in January (this year is was Jan 23, 2023), but don't worry about the cold, you'll be sweating buckets on this race.
9. Have a drink at the ice bar at Lake Louise
Ok you've had your exercise for the day, it's time to get something to drink!
You may have seen a few gimmicky ice bars in various hotels and restaurants around the world, but now you can actually try the real thing!
The Fairmont now creates a unique ice bar each year, with warm cocktails and heaters outside. It's an amazing way to hang out outside and experience the beautiful views in a unique way.
Depending on crowds, sometimes this is limited to guests staying the Fairmont Lake Louise, but other times there are no limits.
10. Afternoon Tea at Lake Louise
This is one of our favourite, classiest things to do at Lake Louise, and is definitely something anyone can enjoy, regardless of how much they hate the cold!
Afternoon Tea takes place in the Fairmont Lake Louise Lakeview Lounge, where you'll be treated to an abundance of scones, cakes, sandwiches and delicious teas.
It's a really fancy way to spend the afternoon, with spectacular views of Lake Louise out the windows. It's also a fantastic way to escape the crowds when Lake Louise is super busy.
Reservations are highly recommended, as this can get quite busy in peak winter season. Dress code is smart casual.
Afternoon tea runs from 12-2.30pm and is currently $70 per person for the standard package. You can upgrade to mimosas and champagne for extra!
There are also vegetarian alternatives as well!
11. Fondue at Walliser Stube
The Walliser Stube is about as close as you can get to Austria outside of Austria. It has everything you could ever want on a cold winter's day; schnitzel, fondue, chateaubriand, spätzle; the works!
Basically, heavy, delicious, calorie dense meals that are perfect after a long day on the slopes. The chateaubriand meal is probably the most full I've ever been in my life.
It came with a cheese fondue to start, large steak (chateaubriand) for main, and chocolate fondue for dessert. One is enough for two people. Don't let them convince you you need one each, unless you're super, super hungry!
Reservations are required!
12. Eat at the Lake Louise Train Station
There is a little known secret restaurant at Lake Louise, where you can dine at the old railway station! The food is heavy, hearty and delicious, and is a great place to come to avoid the crowds.
Most people don't even know this place exists, so it has a really nice, quiet cabin vibe. Huge portions and, although it's not cheap, you definitely get good value for money.
Make sure you make reservations here as well!
13. Visit Morant's curve and watch the trains
Morant's curve really blew up in popularity a few years ago, and it's definitely worth stopping for if you have an hour or two to spare and are an avid photographer!
Basically, Morant's curve is a super picturesque photo spot where mountains, river and train tracks all converge to create an absolutely breathtaking photo opportunity.
Obviously, it's always nice to just stand and watch one of the epic Canadian trains roll through, but this is arguably the most scenic place in Canada to capture a photo of it.
Unfortunately, the train schedule through lake Louise is a closely guarded secret, so it's really a gamble to try and see a train. Sometimes I have been fortunate enough to arrive seconds before the train does. Other times, I have waited for more than an hour with no luck. It depends how prepared you are hunker down and wait!
If you're a photographer, my top tip is to try and catch both the front and the back of the train. Often there is an engine on both ends, so usually you have two opportunities to get the perfect snap!
Morant's Curve is located on the Bow Valley Parkway, just 5-10 minutes from Lake Louise Village. Sometimes the roads aren't in great condition, so occasionally it can take a little longer. It's not really walking distance from the village, so a car is required.
14. Ski at Lake Louise Ski Resort
This is the biggest reason that people come to Lake Louise! The skiing at Lake Louise is world class, and you HAVE to make sure you ski at least once, even if you're an absolute beginner.
There are plenty of lifts and runs that can accommodate all abilities, and usually the snow is better on the back side (less busy as well). The West Bowl is my new favourite area, since they built the new high speed chair, and you'll find it'll take you far from the majority of the crowds.
Seriously, Lake Louise is an absolute must if you like skiing and are visiting in Winter!
Adult lift tickets cost from $119 to $154 depending on when you visit.
15. Go tubing at the Lake Louise Tube Park
Not only does Lake Louise have amazing skiing, it has awesome tubing as well! Not everyone is interested in skiing all day, so tubing is a low effort, high thrills way to get out onto the ski hill and have an absolute blast.
The tubing costs $35 for adults, $20 for kids and you can go as many times as you like. Tubing is free for season pass holders!
16. Backcountry ski into Skoki Hut
Did you know we also have a ton of backcountry skiing in the Lake Louise area? The biggest area is the Icefields Parkway, with most of the great routes being about 20-40 minutes from Lake Louise. There are tons of great routes near Peyto and Bow Lake, but make sure you have the right gear and have adequate avalanche training!
If you want something a little more pampered though, you can book Skoki Lodge in the Lake Louise backcountry.
This is an enormous backcountry area that lies just beyond the Lake Louise ski area. You'll stay in an all inclusive quaint backcountry cabin and have all your meals provided while you shred the slopes during the day. Apparently even William and Kate stayed here when they last visited and they built a new private bathroom just for them!
Unfortunately, to reach Skoki, you will have to tour in, so you'll need all the usual backcountry setup (touring boots and skis, avi gear etc.).
So reach Skoki, there is a small, signposted parking area just before you reach the main parking area at Lake Louise Ski Resort. Leave your car hear and start hiking uphill!
Skoki Lodge is definitely not cheap and can easily run to more than $500 per night. During peak months, they require a minimum 2 night stay. Check rates and availability here
17. Walk the trails in Lake Louise Village
You don't have to just walk the trails up at Lake Louise proper. There are also a few trails down by the village that are easy and mellow forest walks. The best route is the Louise Creek walk, which will take you along the river that runs behind the village.
Park at the Lake Louise Village parking and you'll quickly find the trails if you head towards the river.
18. Visit the Spa at the Post Hotel
Not many people realise this but there is another hotel with a spa in Lake Louise Village; you don't have to only stay at the Fairmont if you want to be pampered!
The Post's spa is known as the Temple Lodge Spa, where they offer a number of treatments, including an array of Massages, Body Therapies, Facials, Nail and Waxing services.
They also have a relaxing salt water spa, which is the perfect way to soothe your aching muscles after a day of blasting your legs on the slopes!
19. Go ice climbing at Lake Louise
I briefly alluded to this before, but if you walk to the back of Lake Louise, you will find a large ice waterfall in the winter. This is a really popular ice climbing spot, and there are a number of local guiding companies that could give you an intro into ice climbing in Lake Louise! I have been ice climbing with Ridgeline, and they offer a really fantastic intro course.
The easiest place to start is probably Johnston Canyon, though, as they have a much more gentle slope that requires far less skill.
Ice climbing in Lake Louise is an epic experience and, personally, I find it far more intuitive than traditional rock climbing. It's something anyone could give a try at least once, and where better to try it than the amazing Lake Louise!
20. Take a sleigh ride at Lake Louise
Winter sleigh rides are just about the most easy outdoor activity you can do at Lake Louise.
They tend to run all winter, as long as there's snow, and follow the footpath around the edge of lake louise. It's a very gentle ride through the woods, until you reach the end of the lake, where you turn around and come right back.
Blankets are provided on the sleighs, and during covid there were even perspex screens between the rows. You can go in the large group sleigh or hire a private sleigh with a lower occupancy.
Married couples often rent the private sleigh as a send off after they complete their wedding ceremonies!
Sleigh rides can be booked at the concierge desk inside the Fairmont Hotel.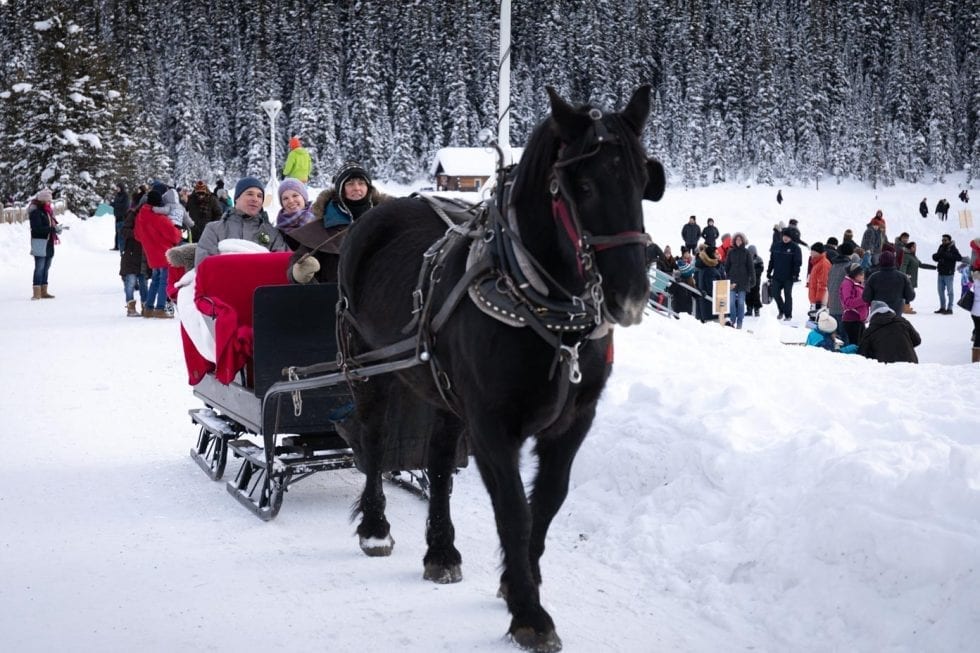 21. Try some astrophotography at Lake Louise
Where better to capture the night sky and potentially, dare I say, even the northern lights than Lake Louise?
When you walk out to the lake and point away from the hotel, you can get some really awesome night time photos of the clear skies!
If you want to see the northern lights, you will have to point your camera north (or towards the bright fairmont hotel), so this isn't ideal, but you could always hike the Fairview lookout to point north and have a view from above the hotel!
If you have the energy and don't mind being somewhere remote, then driving the Icefields Parkway at night is always a great way to see the stars and the Northern Lights (if they're on). My best experience ever was at Peyto Lake, which is only 30 minutes from Lake Louise (but will require a 15 minute hike in the winter to reach the viewpoint).
22. Visit the ice sculptures at the Ice Magic Festival
The Ice Magic Festival is an ice carving competition where international groups come together to create the most epic Ice sculpture. It usually runs in early January and you can watch the artists carving in real time.
Some of the designs are absolutely spectacular and seem to completely defy physics!
In 2023, the Ice Magic festival was postponed but there are still some ice sculptures along the lake shore. Definitely worth checking out!
23. Play Bavarian Curling at the Fairmont
This is just a mini activity by the Lake at Fairmont Chateau Lake Louise, but if you're looking for some family fun, Bavarian Curling is a great way to kill some time!
Think of Bavarian Curling like a small version of curling, where you slide/toss an ice stock along the ice and aim to get the closest to the centre point. It's super easy, although there's a bit of a knack to sliding the stocks properly.
This activity is generally limited to hotel guests only.
24. Grab a delicious pastry from the Chateau Deli
I'm not usually a huge pastries and cakes person, but after I've been wandering around in the snow for an hour, I'm usually ready for a hot drink and something to eat.
The Chateau Deli in the Fairmont Chateau has some of the best cakes, cookies and pastries you'll find anywhere in Banff National Park.
Seriously, I used to do daily tours to Lake Louise and would eat the banana chocolate chip bread every single day. It's SO good. Their chocolate pretzel twists are also amazing. And it goes without saying that their hot chocolate is also fantastic. Fairmont pastry chefs are some of the best in the world, so this is a great place to get a snack!
There are times throughout the year when the Fairmont is off limits to non-guests, but sometimes during the winter it's open to the public and I highly recommend grabbing yourself a quick bite from the deli if you can!
25. Walk across Lake Louise
You don't have to walk around the edge of Lake Louise on the footpath, you can also forge your way across on the actual ice. This can be easy or difficult, depending on how much snow has accumulated, but I really love being out there in the mornings on a bright sunny winter day.
Nothing beats standing in the middle of a frozen lake in Lake Louise in Winter!
If you are going to hike out onto Lake Louise, avoid the base of the mountain (Fairview Mountain) on your left, as this is an avalanche risk area.
26. Hike up to Mirror Lake and Lake Agnes
If you're looking for something a bit more strenuous, you can actually still hike at Lake Louise during the winter. One of our favourite summer AND winter hikes is the hike to the Lake Agnes Teahouse, via Mirror Lake.
This trail takes you up through the trees on a winding switchback filled trail, and in winter should take you 1-2 hours, depending on your pace.
I would definitely recommend bringing some ice cleats for traction, as most of the trail will be snow packed and could potentially be a little slippery.
If you can make it as far as Lake Agnes, you will be greeted by epic mountain views and a frozen Lake Agnes. Unfortunately the tea house is only open during the summer months, but it's still worth walking up!
Please note it is not recommended that you go beyond the teahouse to the back of Lake Agnes (the usual Big Beehive Route), as this is a large avalanche risk area.
27. Hike up to the Big beehive (the back way)
It is actually possible to hike up to the Big Beehive during the winter months but you can't go via Lake Agnes. Instead, you take a left when you reach Mirror Lake, and then a right about 1km further on (signposted). This route also takes you through some short slight avalanche risk areas, but nowhere near as bad as Lake Agnes!
In any case, make sure you're careful and well equipped for any potential avalanche risks.
We did this route this past winter and it was actually very easy. Not many groups had been before us though, so we did have to blaze the trail a little bit. It's definitely recommended to have waterproof boots and gators if possible.
28. Take a day trip down the Ice fields Parkway
From Lake Louise, the entrance to the Icefields Parkway is minutes away by car, and you can follow it all the way to Jasper if you have time.
The road is probably one of the most stunning drives in the world, so it's something you really can't afford to miss! Pack plenty of warm winter gear and supplies and go for a drive! We've written a full guide to the Icefields Parkway here, but honestly, you can just create your own adventure!
Personal highlights include Panther Falls, various glaciers and Peyto Lake.
29. Cross Country ski around the pipestone area
This is another little known cross country ski area right next to Lake Louise and it's a fantastic place to explore in the winter!
Maybe 20 seconds down the highway from Lake Louise village, cross to the other side and there's a small parking area with a small gate. Cross through the gate and you're into the Pipestone area!
This is another fantastic area to explore if you're a beginner on XC skis. There are a couple of small hills, but nothing too terrifying.
Rent XC skis from Wilson's in Lake Louise Village or from somewhere in Banff (like Snowtips Backtraxs). Generally speaking, it's cheaper in Banff to rent, but they won't be too far apart in price.
30. Go dogsledding down the great divide trail
Dogsledding is definitely something everyone should try at least once. The dogs absolutely love it and the speed you travel at is absolutely unbelievable!
There are a number of different outfits that offer dogsledding but Kingmik operates out of Lake Louise. They generally run down the Great Divide Trail, which is slightly down the hill from Lake Louise and offers jaw dropping mountain views as you blast along at high speeds.
Tours currently cost around $530 per sled (assuming two passengers) and take about 1.5 hours.
Bring the warmest clothes you have and hold on for dear life!
31. Visit Emerald Lake and Natural Bridge
Emerald Lake and Natural Bridge are not technically in the Lake Louise area, but are actually in Yoho National Park in British Columbia.
However, it is only 20 minutes away by car, and most visitors will stay in Banff, rather than stay at Emerald Lake (which is a great option, by the way). To most visitors, this is just a quick extra stop if they're already visiting Lake Louise, hence its inclusion on this list.
Emerald Lake is a stunning alpine lake, surrounded on all sides by mountains. It has breathtaking views, and in the summer it's a fantastic place to rent a canoe or hike around. There is also great ski touring in the area as well.
In winter, Emerald Lake is a great place to just walk around on foot, cross country ski or simply snow shoe across.
Natural Bridge is in the same number because honestly, you can't miss it if you're on your way to Emerald Lake.
It's a crashing waterfall with a natural rock bridge over the top. In the winter, the river freezes enough to create a cave inside the rocks, but please make sure the ice is thick enough before you go anywhere near it!
32. Torchlight ski down Lake Louise
The Torchlight ski is a one off event that's held at Lake Louise every winter. It's probably the most fun I've had at Lake Louise after dark and is quite a fun adventure.
The day starts with the last chair up the ski hill. Next you'll ski down to the Whitehorn Bistro and grab a drink or two and snacks as you wait for the sun to set.
Once it's pitch black, you'll throw a headlamp on, and bomb down the mountain in the dark to the lodge! Unfortunately, you only get to do one run, but it's pretty funny.
Then at the bottom, it's a massive buffet, live music and general shenanigans. This generally takes place in late January and requires advanced purchase of tickets. Make sure you get yours in advance!
Read up on our full torchlight experience here!
33. Watch the Ski World Cup
Lake Louise is generally the only place in North America that features in the Ski World Cup tour, so if you happen to be here when it's on, it's well worth a visit.
Generally the men's and women's slalom is held on different days and on different runs, so there are usually two weekends when you can catch some of the action.
Ironically, last year we tried to watch it but it was postponed because there was too much snow!
Stand at the bottom of the ski hill and watch the world's best skiers come flying at you at full speed! It's definitely worth checking out.
34. Check out the Lake Louise Slush Cup
The annual Slush Cup is another one off event at Lake Louise that marks the end of the winter ski season each year. It usually takes place on the last official day of the season and invites competitors to fly down the hill and do their best to skim a pond full of icy water without falling in!
There are all sorts of costumes and plenty of splashes. It's typically not the best skiing in the world (it's all slushy), but it's a really fun time. Most locals go to hang out, have a few pints and watch their friends get soaked!
This year the Slush Cup is scheduled to take place on "Mount Slushmore" on April 29, 2023. This years theme is retro!
35. Grab an après drink at the Fairmont Alpine Social
Sometimes you just need a drink after a long day on the slopes. The Fairmont Alpine Social bar, in the basement of the Fairmont Chateau Lake Louise Hotel is the perfect place to go. Great cocktails and great vibes.
There's often live music and there is an oversized scrabble board on the wall. Whenever we stay in the area, this is where we tend to hang out after dinner.
36. Go fat biking up the Moraine Lake Road
You can fat bike a lot of winter trails in Banff National Park, but if you're in the Lake Louise area, Moraine Lake Road is probably the best one to fat bike.
Believe me, it's hard work grinding all the way up to the end of the trail, but it's probably the most compacted trail you'll find. And the way down is super fun, so really, when you think about it, you only have to cycle 6.5km and then the rest is all downhill!
37. Hike to Taylor Lake
There are plenty of winter walks and hikes in the area, but the Taylor Lake hike is one of the nicest around. This hike is probably one of the best things to do in the Lake Louise area in Winter.
It's medium difficulty, with no ridiculously challenging elevation changes and can be done either with boots or snowshoes. It might be worth bringing ice cleats for some of the steeper sections though.
Most of the hike is through the forest, until you finally reach the beautiful Taylor Lake, surrounding by towering peaks!
In total, the elevation gain is around 595m, total distance is 12.6km return, and takes about 5-7 hours.
38. Check out the frozen ice castle
The ice castle ties in nicely with the Ice Magic festival, as it tends to appear around the same time. The Ice castle is usually built right at the edge of Lake Louise and offers an incredible backdrop for some amazing holiday photos. Some years rose petals are frozen into the ice, other times there are lights built in.
It's always a marvel how they manage to built this amazing sculpture, and I love coming back every year to see the latest design.
Generally the ice castle tends to appear in January, and it stays looking good generally until the end of February. As the weather starts to warm up, it gradually starts to melt and look a bit worse for wear.
If you want to avoid the crowds at Lake Louise, I would recommend visiting early.
39. Johnston Canyon Ice Walk
The Johnston Canyon Ice Walk is actually not really in Lake Louise, and is about 25 minutes away (on the way back to Banff). But if you're staying in Lake Louise, it's quite an easy half day trip.
At Jonston Canyon, the main walk is to the lower Falls, but you can also continue on to the upper falls. You can also venture further to the Ink pots, but this is substantially further and most visitors don't make it that far.
The lower falls has a beautiful waterfall that tends to become encased in ice during the winter months. You can get up close by walking through a small cave, but be warned, this cave is always lethally icy. Do not try to go in without ice spikes!
In fact, I would highly recommend not doing Johnston Canyon without ice cleats or spikes, because it gets SUPER icy, particularly if it hasn't snowed lately.
The upper falls are a much larger frozen waterfall and a very popular ice climbing spot. If you make it this far, you can often admire climbers as they tackle the enormous ice walls.
I usually budget 1 hour round trip for lower falls, 3 hours for upper falls.
40. Sled down the hill at Lake Louise
This is basically a free activity if you can get your hands on a sled (Canadian tire sells cheap sleds)! From the back of the hotel (facing the lake, walk out and up to the right. There is a large grassy/snowy hill that is PERFECT for sledding.
Kids love this hill and it's a great way to keep them entertained for a little while.
41. Book a winter photoshoot at Lake Louise
Shameless plug for my photography business here, but Lake Louise is a stunning place to have a photoshoot. I can't tell you how many proposals I've photographed here as well! Visit my photography website and shoot me an email if you're interested!
When is the best time to visit Lake Louise in the Winter?
Lake Louise is awesome at any time throughout winter, but if you want to experience the best skating and skiing conditions, then late December or January tends to be the best. We do have some really cold snaps scattered throughout winter, and often it's coldest in late Jan/February.
Also, a lot of the ice carvings, castles and skating isn't ready until January, so I'd generally say that mid-late January is the best time!
How cold is Lake Louise in Winter?
Lake Louise can get pretty frosty in the winter. On the low end, it can easily get down to the low -30C range, so it's always a good idea to check the weather forecast before you head out for the day.
I always recommend having some hand warmers ready to put inside your gloves, just in case.
For most of winter, the temperature doesn't generally fall that low. Typically it might be in the -10 to -20C range on any given day.
Where to park at Lake Louise in Winter
Parking at Lake Louise is really tricky in the summer when it's busy, but the winter isn't generally too terrible, except for peak holiday season around Christmas time and weekends.
Normally, you can park in the paid public parking at Lake Louise, which costs $11.50 per day. There is limited parking at Lake Louise, so if it is full, the next option is to park at Lake Louise village and take a shuttle bus.
You can also take the Roam shuttle bus from the town of Banff. This is arguably the simplest access to Lake Louise and you can leave the car at home!
If the parking at Lake Louise Village is full, you can also park at the Lake Louise Ski Resort and take a shuttle bus over.
Final Thoughts on Lake Louise in Winter
Well, if that isn't the ultimate list of things to do in Winter in Lake Louise, I don't know what is! We've spent a whole lifetime (literally we've been coming here our whole lives) figuring out the best things to do at Lake Louise, and we're super happy to share them with you. If you have any questions about the best things to do, drop a comment or shoot us an email and we can help you out. Happy travels!
Pin This!