I've wanted to visit the Bonneville Salt Flats in Utah for YEARS! It's been on my bucketlist ever since reading about the land speed record attempts at the Bonneville Salt Flats International Speedway as a kid.
It's been on our list every time we've visited the southwest, but seeing as we usually fly into Las Vegas, it's always been just a little out of reach for a short road trip. Instead we usually choose to visit one of the many other national parks that are within just a few hour's drive from Las Vegas!
Las Vegas to Salt Lake City Road Trip
This time though, we decided to try something new and drive from Las Vegas all the way to Salt Lake City (which, by the way is a drive worth doing in itself – eventually we'll get around to writing a blog post!). It's a drive with the potential to take you through Zion National Park, Bryce Canyon and even the amazing, Mystic Hot Springs.
Flying out of Salt Lake would mean we'd finally be within driving distance of the Bonneville Salt Flats, so we'd finally be able to check it off our bucketlist!
Well, skip forwards a couple of weeks and we've just got back from our road trip. I've got to tell you, it was a long drive but well worth the effort!
Here's everything we picked up from our trip, and everything you could ever need to know about visiting the Bonneville Salt Flats!
What are the Bonneville Salt Flats?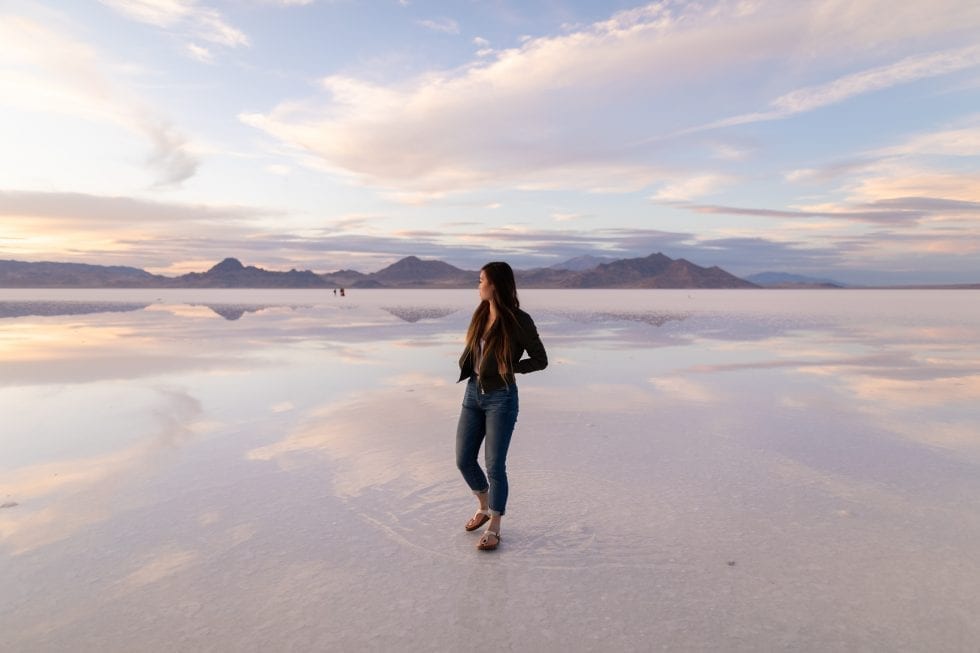 The Bonneville Salt Flats are an enormous stretch of flat, empty ground to the west of Salt Lake City. The salt flats are over 30,000 acres of land that were once a part of the now dried out, Lake Bonneville. Before it dried out, the lake was once the size of Lake Michigan, and a third the size of Utah!
As the lake dried out, an enormous amount of salt was left behind, leaving what is now the Bonneville Salt Flats in its place.
It's an incredibly inhospitable desert environment, allowing absolutely no vegetation or life to survive.
In summer, the salt flats can reach well over 100F, and in winter, well below freezing.
While the salt flats dry out in the summer, water forms a thin layer across the flats in the winter, creating an illusion that the sky is mirrored on the ground. We visited in November, and that's exactly what we found!
Photos of Bonneville Salt Flats
Sometimes words just don't do it justice. Here are some of the photos from our visit to the salt flats!
How to get to the Bonneville Salt Flats
Drive West from Salt Lake City on the I-80. That's it! If you want to find the main viewing rest area, then it's 111 miles west of Salt Lake City or 10 miles from the town of Wendover, just over the state line in Nevada.
Where's the best place to photograph the Bonneville Salt Flats?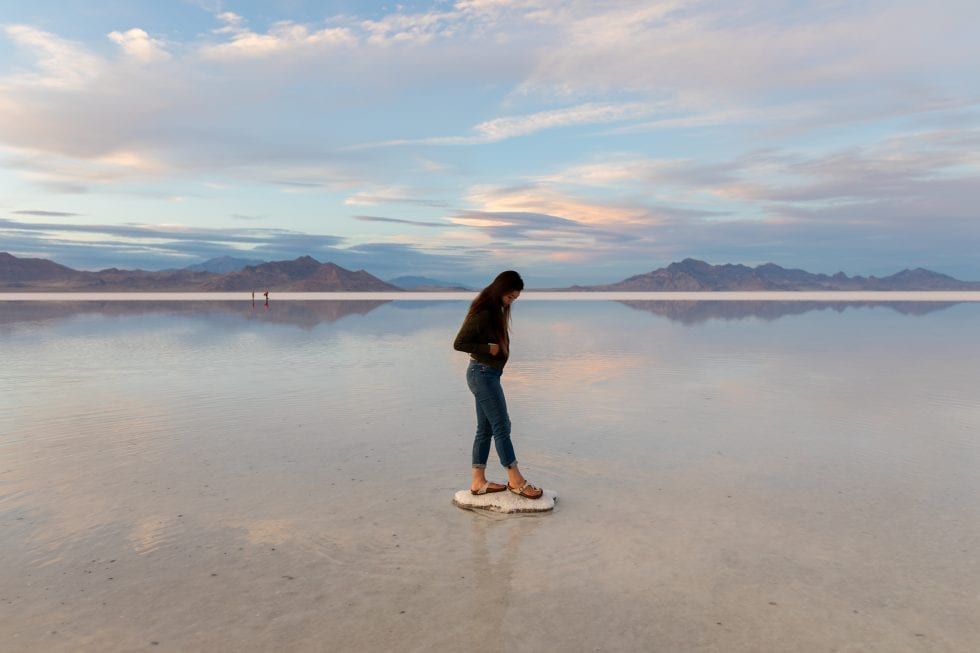 The salt flats run for a hundred miles between Salt Lake City and the state of Nevada. There's a long, long, straight road (I-80) that runs west from Salt Lake City, and for 90% of the drive, you'll be driving parallel to them.
The best place we found to photograph the salt flats was at the Bonneville Salt Flats Rest Area (Westbound). When we visited in November, this was the only place that we found that was actually flooded and accessible, so this was where we stopped!
Here are the coordinates (40.7375286,-113.8517409), but you can find it easily just by typing the Bonneville Salt Flats into Google maps.
It's here that you'll get the stunning reflections running to the horizon; where it feels like you're walking in the sky!
Unfortunately this water was about 100 miles from Salt Lake City, but it was well worth the drive.
Important things to know about shooting in the Salt Flats
Here are a few things to note if you're going to walk out onto the flats and into the water to try and take photos.
The water can get extremely cold. Remember, salt lowers the freezing point of water, so if it's a cold day, the water might actually be colder than freezing! We went into the water at sunset in November, and it was bearable but painfully cold.
It might look it, but the salt is not soft like sand. It's hard crystals of salt and relatively sharp for bare feet. I do not recommend walking on it without shoes. There were several people wading in barefoot and yelling loudly about how painful it was. Bring water shoes. Also, expect those shoes to emerge from the salty water caked in salt and in need of a good wash. Don't get anything you care about wet.
Goes without saying, but don't let any of that salt water near your gear or car. Salt water is extremely corrosive and the enemy of all camera gear/electronics/metal.
Get low to the water to shoot. Our best reflections were taken as low as possible
Bring everything you need with you and something waterproof that you can put things down on. There was nowhere dry to put anything on the ground.
The water probably got to shin depth when we were there (November), but we continued walking and eventually it got pretty shallow.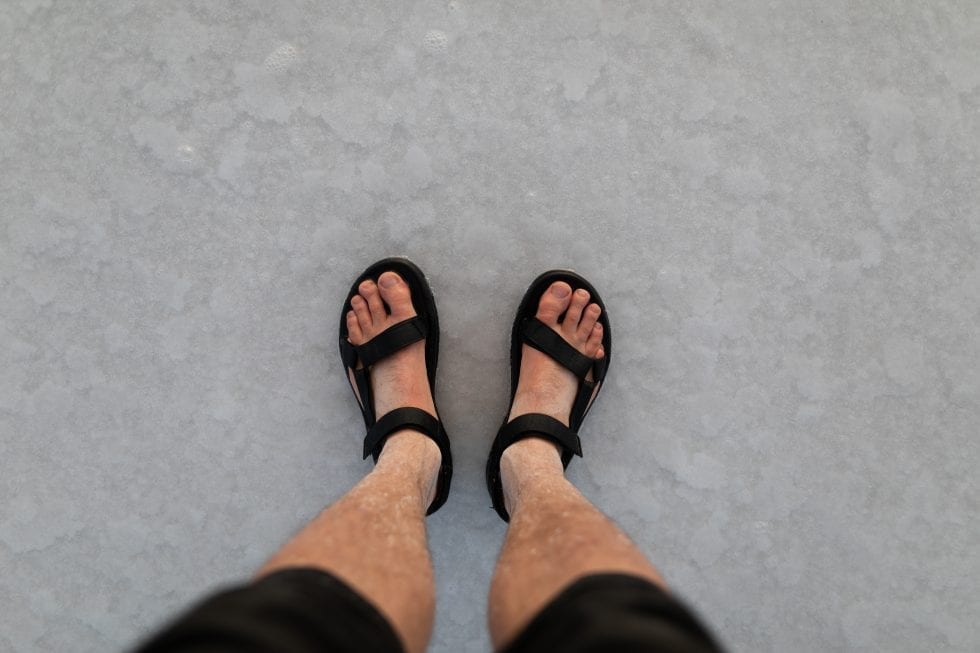 Even when you pass the deep covered section of the flats, there were hundreds of metres of wet ground that weren't quite submerged.
Ultimately I just decided to throw my bag's rain cover on the ground and use it as a barrier between my bag and the salt water. There weren't really any good solutions.
The Rest Area (Westbound)
Not only is this the best place to stop for photos, but the stop also has public toilets and a water station to wash your salty shoes off! You're also only 20 minutes from Wendover in Nevada, where you can grab fuel and fast food, or even stop into a casino!
Can you drive onto the salt flats?
Anyone that's heard of the salt flats has also heard of the speedway, so it's fairly obvious that you can drive onto the salt flats, however you should do it with caution!
In many places, only a thin layer of salt lies above wet mud. Many vehicles have met with unexpected difficulty by venturing too far off road and it's extremely expensive to get towed.
The ecology is also very fragile, so help protect the area by only driving in designated areas.
Where should you stay?
The most obvious place to stay when visiting is Salt Lake City. There are so many amazing cultural things to check out in Salt Lake that it would be a fantastic base for exploration. We stayed in a cheap hotel by the airport just before flying out, but there's something for all budgets in Salt Lake.
Check here for rates and availability in Salt Lake City, Utah.
The alternative is to stay in Wendover. This is far, far closer than Salt Lake City, but is kind of like a cross between Las Vegas and a truck stop. There's plenty of fast food and a variety of Casinos to stay in. If you like to gamble or don't want to be up super early then this would make the most sense.
Check here for rates and availability in Wendover, Nevada.
Pin This!