The Mount Temple Hike, or should I say, scramble, in Banff National Park is an absolute beast and a must do for any hardcore adventure enthusiasts!
It's probably the most sought after objective in Banff as it's probably the highest peak you can safely summit without any mountaineering experience or equipment. We highly recommend this adventure, although it's certainly not for the average hiker or for the faint hearted.
Here's everything you need to know about tackling the epic Mount Temple!
Quick Mount Temple Statistics
Elevation gain: 5200ft (approx 1700m)
Peak: 11,600ft
Distance: 16km
Time to complete (8-10 hours)
Difficulty: Hard
Skills required: scrambling skills
Equipment required: Helmet (+ GPS if you have one), free paper copy of route from Lake Louise Info Centre
Mount Temple Scramble
Before I go into the details, be aware that Mount Temple is unequivocally rated as a difficult scramble, as there are parts with serious exposure. This means that a fall would certainly cause extreme injury or death.
It's not a good idea to take on without any experience. To make things flow better, I'll use hike and scramble interchangeably in this post, especially as most of it is only a hike, but to summit, you'll definitely have to scramble!
The Mount Temple Hike
Starting from Moraine Lake
This is yet another one of the epic Banff hikes that begin from the Moraine Lake Parking lot. If, after reading this, Mount Temple sounds a little intimidating, make sure you check out our post on some of the other great hikes in the Moraine area instead!
Moraine Lake to Larch Valley
The hike to Mt. Temple is fantastic as it follows the route of a couple of other spectacular shorter hikes in Banff first; those being the Larch Valley and Sentinel Pass hikes.
Part 1 of the Temple hike will take you up steep switchbacks. This should take around an hour and eventually you'll pop out in a stunning alpine meadow known as Larch Valley. This is one of the most popular Autumn hikes, and is arguably one of the best places to see the fall colours in Banff.
This section of the hike is a well maintained trail that should be manageable for all abilities.
Larch Valley to Sentinel Pass
Larch Valley to Sentinel is probably the easiest portion of the Temple hike. You'll pass through beautiful Larch Valley and up to a flat (ish) meadow with a few beautiful lakes. These lakes are known as Minnestima Lakes and are a fantastic place to catch the sunrise if you get here early enough! Bring a telephoto lens and your photos will be absolutely spectacular!
After you pass Minnestima Lakes, you'll start climbing upwards on a couple of large switchbacks; aiming for the saddle between Eiffel Peak and Mt. Temple.
Once you've reached the saddle, you'll have officially completed Sentinel Pass and you're about 6km in! Sentinel Pass is a very popular and manageable hike for anyone with limited experience.
However, it is a sizeable objective as you'll still have the same return distance back to the parking lot ahead of you.
From here, you can see into Paradise Valley beyond, and the towering Mt. Temple above you.
From Sentinel Pass, the summit to Mt. Temple is a daunting 2km ahead, and you'll still have about 800m or the equivalent of Mt. Lady McDonald or Ha Ling ahead of you. You can't see the summit from here.
Sentinel Pass to the Crux
From Sentinel Pass, the route climbs sharply upwards and turns into rocky scree. If you're only used to hiking, this is where you'll notice a big change in terrain and difficulty. Follow the route as advised by Parks Canada for full trail description (I'd also recommend picking up a paper copy of the trail map from the Lake Louise info centre. This was very helpful for me indeed).
As you go, you'll hit your first scramble with exposure, and will have to lever yourself up a small cliff band.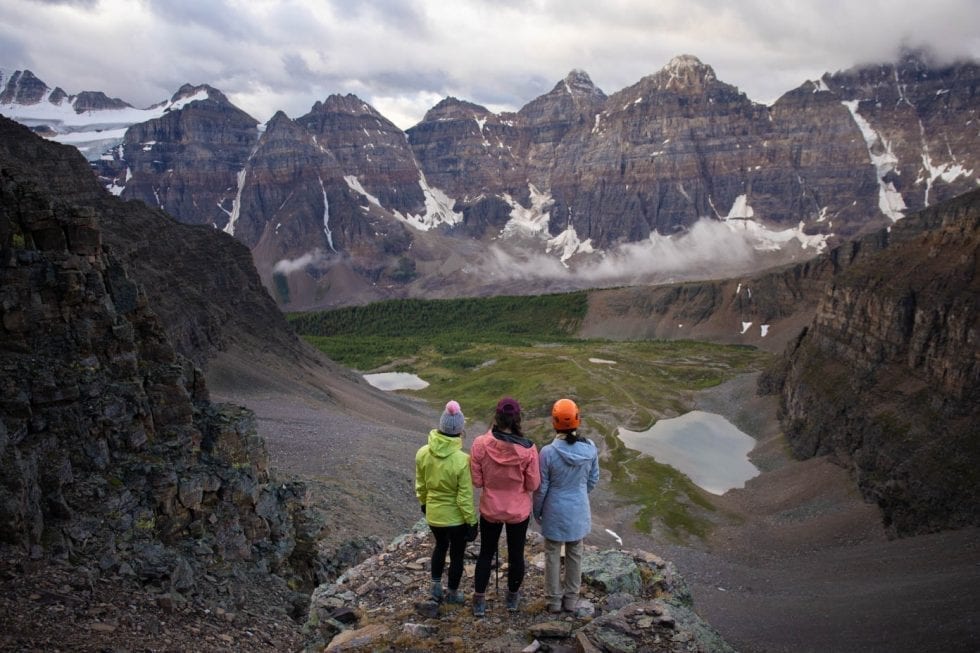 Eventually you'll hit a flat section, followed by a traverse and then the actual crux (the hardest part) of the mountain in the second rock band.
This is a section of 10-15ft of rock that you'll have to climb. A fall here would mean serious injury or death.
Choose the correct route by following the painted blue squares on the rock. It's not too difficult, but remember whatever you climb, you'll also have to climb down afterwards. Climbing down is harder than climbing up. It would be a very good idea to have a helmet here.
Also, It's worth noting that these rocks would be very slick and challenging if it was raining.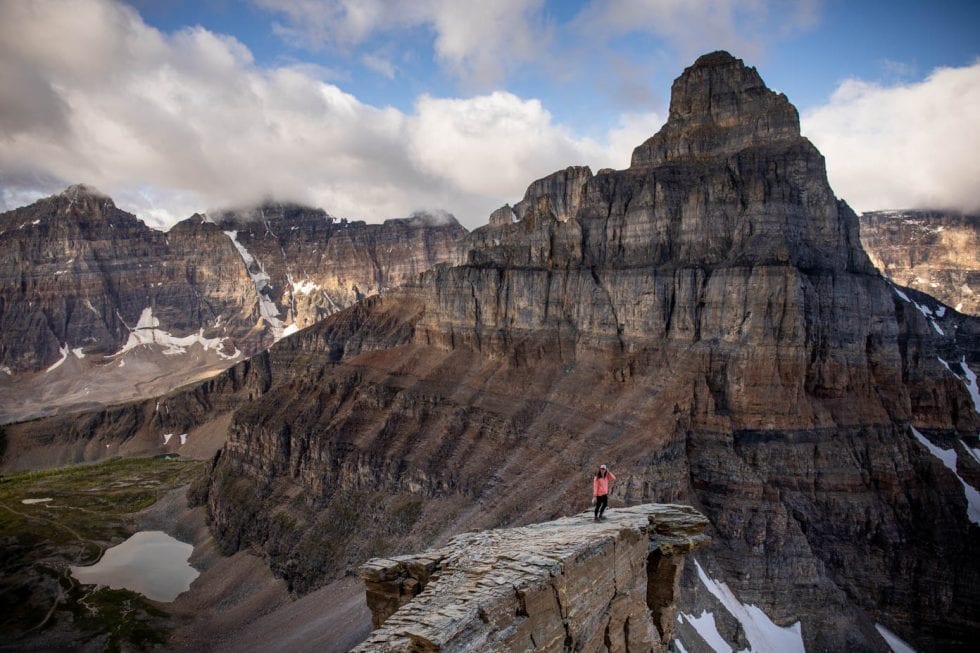 Crux to the Mount Temple summit
After the crux, the trail is fairly straightforward and is definitely more of a hike than a scramble. There are a few points where the trail might not be obvious (where a map and a gps would be extremely helpful) but generally the route is clear.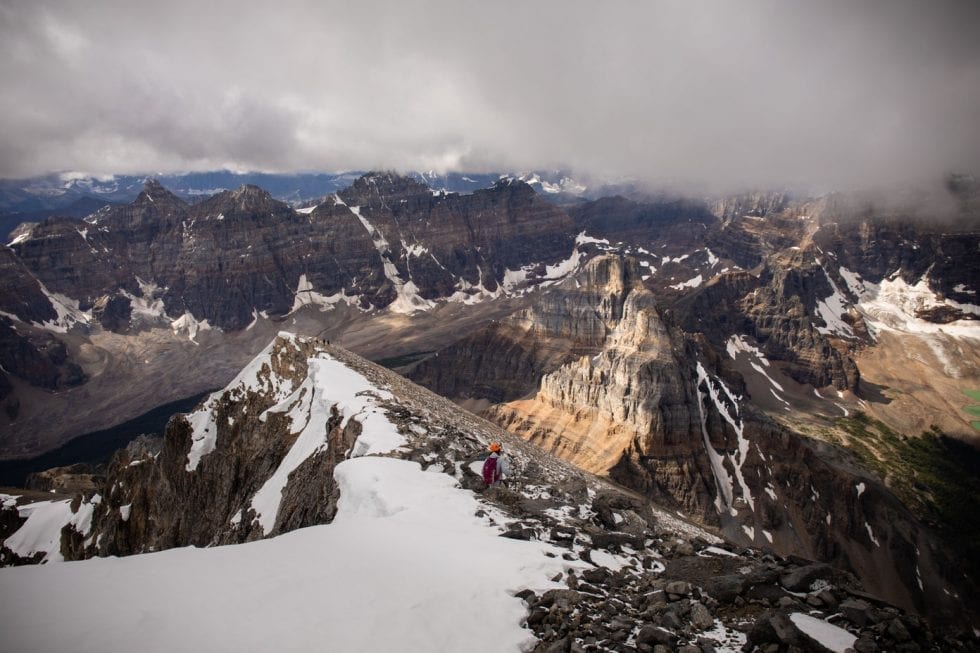 We were warned that snow or ice might necessitate crampons for the top third of the hike, but this wasn't the case for us (we did this hike on August 24, 2019). There was a dusting of snow and some ice at some points but crampons weren't necessary.
If you go later in the season this could definitely be the case. In fact, one week later, a solo hiker was found dead on Temple in significantly worse conditions.
The Top third of the hike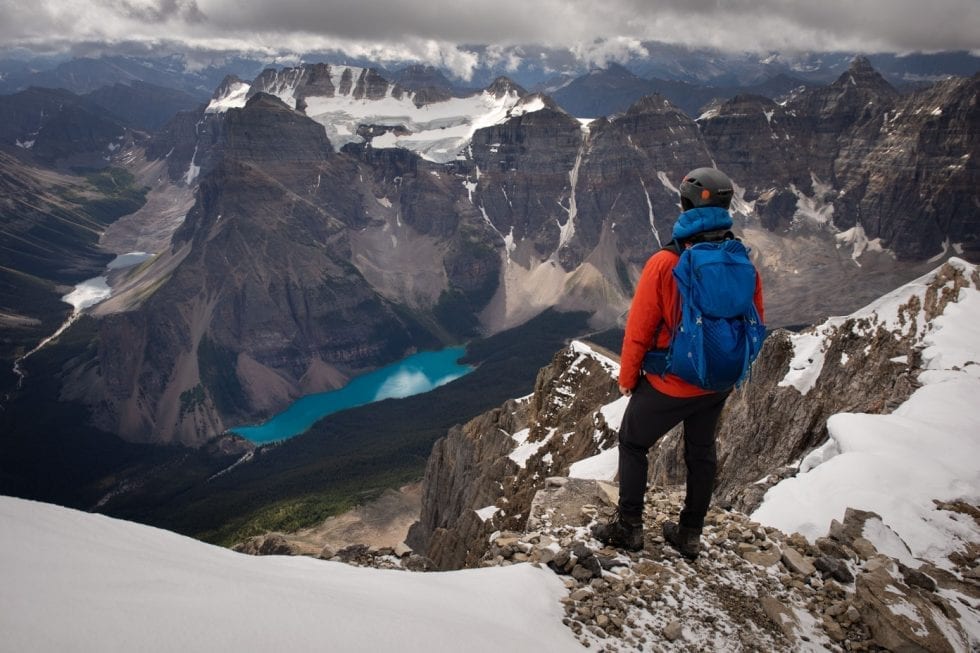 The last third of the hike was the most challenging for us. It wasn't technically difficult, but the lack of air made every step feel like walking through syrup. For me, it was take 3 steps, stop to catch my breach, take another three steps. It's seriously hard work, especially as you're walking on scree and constantly sliding backwards.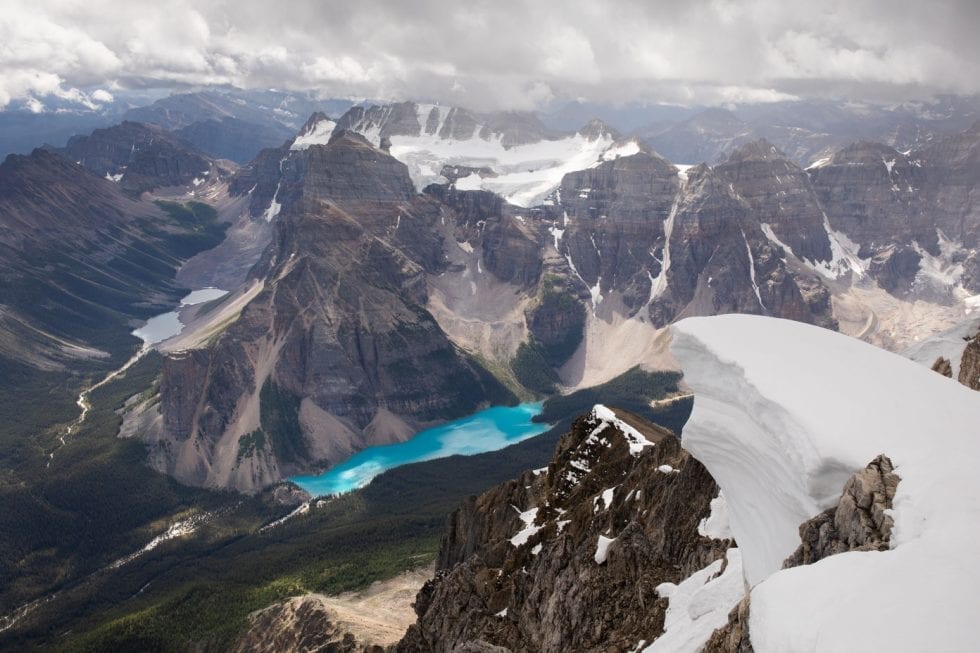 For the top scree section (summit ascent), make sure you keep to hiker's right and hike the spine of the ascent. There are far more switchbacks to walk, rather than the loose scree on the left.
The Glacier
Just as you reach the summit of Temple, you'll see the glacier. This is a year round chunk of ice that sits on the top and is visible from the highway way down below. Be very cautious about going too close to the edge as there are large cornices that pose a potential risk.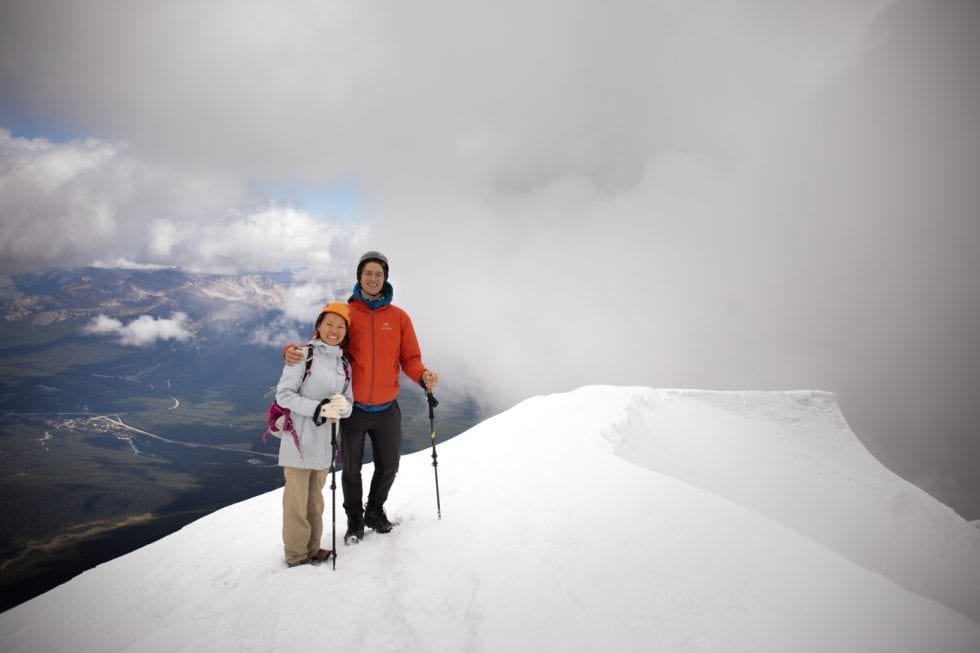 The actual summit is just before you reach the glacier, so you can sign the log book without having to step out onto it. This was the only place that we really felt that crampons would have been helpful!
From the top you'll be able to see absolutely everything! Moraine Lake is just a tiny dot far below you! Also notice Eiffel Peak on the other side and how much higher you are on the peak of Temple!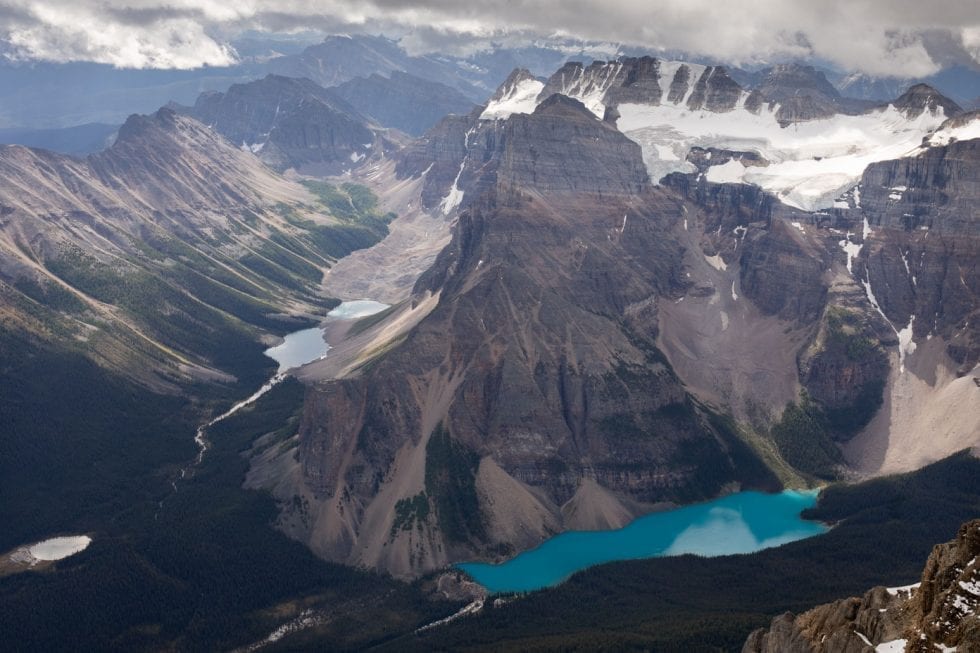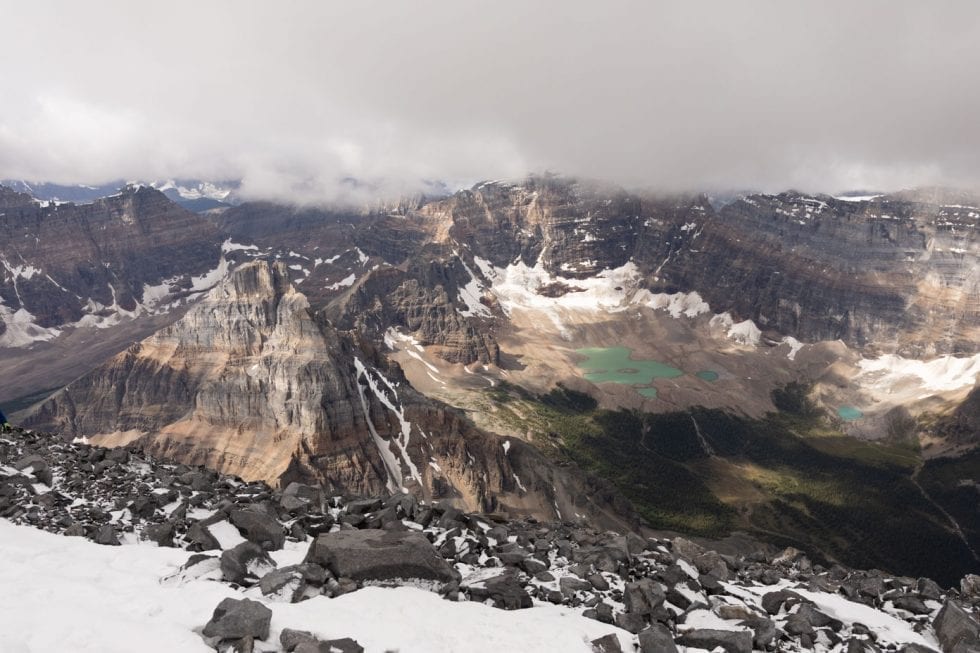 Once you've had your fill of the views, it's a long 8km trudge back down the same route. Congratulations, you're one of the brave few that's made it to the top!
Tips for a successful summit
Get to the parking lot early!
There are two important reasons to start the Mount temple hike extremely early. I'm talking before sunrise (probably before or around 5am):
1.Weather
The Weather in Banff is notoriously unpredictable, although generally speaking if you're going to get bad weather it's going to happen in the afternoon. This is to do with the science behind weather in the mountains and has to do with the sun heating the mountains throughout the day, ultimately creating clouds and weather storms in the afternoon. I'm not an expert, but my experience would corroborate that theory.
But don't get me wrong, it can still easily rain in the morning!
So the best rule of thumb for summer hiking in the Rockies is to start early and get down before the bad weather rolls in. Obviously Temple is a huge objective, so starting super early is a good idea.
2. Parking
This is a bit of a self fulfilling prophecy here, but as it stands, getting to Moraine Lake early is an absolute must if you want to get parking. Moraine Lake is easily Banff's most popular attraction, so beating the crowds becomes more and more challenging every year.
The parking lot is tiny and once it's full there's nowhere to park without risking getting towed. If you're going to be there for 8-10 hours potentially, it's not something you want to risk. Getting towed from Moraine will cost you around $800!
In summer 2019, I visited Moraine Lake around 30 times for various reasons. In my experience, if you weren't at Moraine Lake by 5.20am, you wouldn't get a parking space. This was the case for all of July, August, September and early October. Writing this is most likely going to continue to perpetuate this, but if you want to hike Temple, it's critical that you get an early start. That means leaving Calgary by 3am at the very latest.
2020 summer shuttle bus update: Tickets for the Lake Louise and Moraine Lake Shuttle buses will now only be available by making an online reservation in advance. In 2020, it will no longer be possible to purchase a walk up spot for either bus. Tickets for the 2020 buses will be released on April 1, 2020; please check the Parks Canada Website and register for email alerts for important updates.
Preparing for the conditions
Bring decent layers
Although it was a beautiful day when we started at the bottom, there was some inclement snow that hit us as we descended the last third of the trail down to Sentinel Pass.
Fortunately, we were aware of this risk and packed the right gear for the route. We passed several groups still heading up in shorts, with no gear whatsoever and realized that many people just start the hike and assume it'll be fine. Don't be like that!
The temperature is significantly colder on the summit, so make sure you bring layers that you can take on and off as you heat up/cool down. Here's our guide to layering if you need some tips!
Check weather online
Being aware of the weather is the most crucial part of this adventure. You need to know what the weather will be like in your exact area, to the hour. To do this you should check and screenshot the latest report from Mountain-Forecast.com.
Bring a GPS
However, this might not be enough as much can change significantly in 8-10 hours. For us, it was extremely helpful to have a Garmin InReach Mini GPS, as we were able to call in instant GPS weather predictions.
Based on our weather forecast from Mountain Forecast, we were genuinely on the fence about summiting and nearly turned around at Sentinel Pass.
Fortunately, our GPS said we had several hours until the snow arrived, so we pushed to the top. As predicted, the snow arrived when we were safely back at a lower altitude. I assume the groups that were heading up into bad weather were not aware of the potential hazards they were about to walk into.
I highly, highly recommend investing in a GPS with weather functionality. This is not an ad! You can read more about why we love our Garmin InReach Mini here though if you're interested!
Safety Gear
Hiking Temple will put you at significant risk of rock fall, particularly if there are other groups ascending or descending above you. A helmet is an absolute no brainer which you can rent from Lake Louise Village for less than 10 dollars!
We were recommended crampons for the hike, but it really wasn't necessary in August. I think microspikes might have been useful though if we'd attempted it over the coming weeks when there was more snow.
When to attempt Mount Temple?
For regular hikers, there is a very narrow window for Mount Temple. This is because for much of the year, the mountain is covered in snow.
If you're a mountaineer then this may not be as much of a barrier for you, but for most the season is July, August and September. The start and end of the season may vary dramatically based on current weather, so check with the info centre if you're not sure.
Overall
Overall, Mount Temple is an extremely challenging objective. It isn't technically too challenging, however it is very, very long and exhausting. The scramble and altitude are the main risks to be aware of.
Temple has been on my mountain bucketlist in Banff for years, and I highly recommend checking it off!
Pin This!