Mystic hot springs in Utah
Mystic Hot Springs are a privately owned hot springs "resort" about two hours south of Salt Lake City, in the sleepy town of Monroe, Utah. Here, on a hillside with panoramic mountain views, natural mineral water bubbles out of the ground and is piped into various vintage bathtubs and pools.
If you're a fan of hot springs, this has got to be one of the most unique springs in the US and is absolutely worth stopping at!
Why not pin this so you can read it later!
Mystic Hot Springs History
The history of Mystic Hot Springs (formerly Monroe hot springs) goes back hundreds of years to when to the local Indian bands used the springs for warmth. Later, settlers moved to the area and turned the springs into a homestead in 1886. In more recent times, it was acquired by a musician (Mystic Mike) who fell in love with the place as he drove home from a Grateful Dead concert in his tour bus. As a result, the hot springs also regularly hosts live bands and a summer music festival in July.
You can book tickets to music concerts at Mystic Hot Springs here for $10
Don't be fooled by first impressions
To be honest with you, it's a strange vibe when you first arrive, especially if you arrive outside office hours.
The land belonging to Mystic Hot Springs is littered with old, dilapidated cabins, junk vehicles and buses, old furniture and other scrap, giving it a kind of junkyard vibe. Thank god for GPS, because we honestly weren't sure we were in the right place when we pulled up.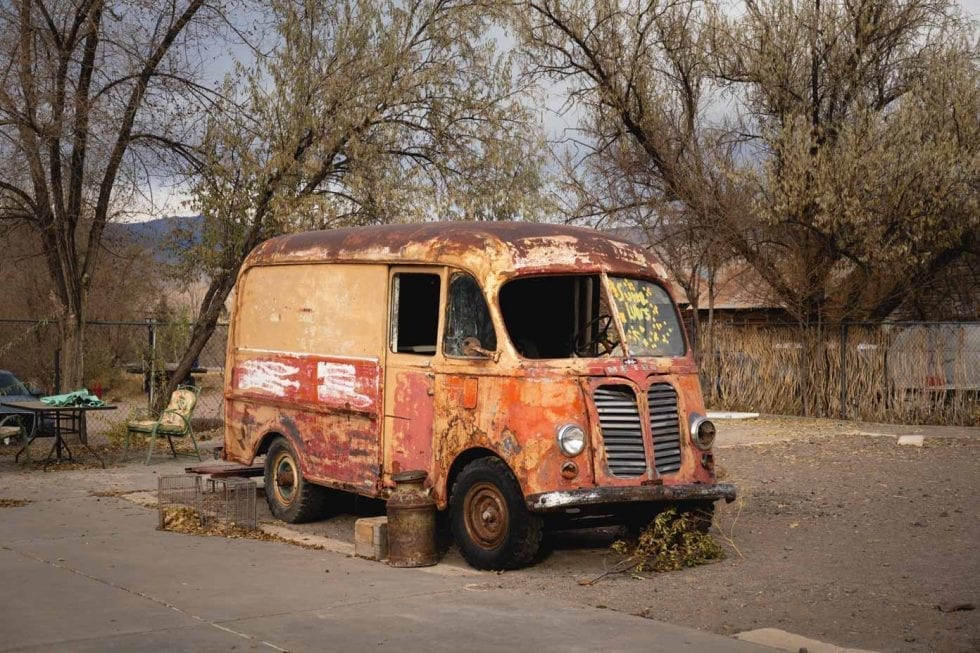 If we'd taken the time to do a bit more research however, we would have discovered that there's good reason to all the old cabins and scrap vehicles, and that it's all part of a slow metamorphosis that Mystic Hot Springs has been undertaking since the mid-nineties.
Many of the old cabins are actually artefacts from the 1800's, that the owner has lovingly rescued from previous owners with the intention of restoring them and ultimately creating a pioneer village. So far there are over 30 cabins, 3 of which are currently available to rent overnight.
The many buses on the property have also been converted into cabins, which you can also rent at an astonishingly low cost (more on the accommodation later).
The Hot Springs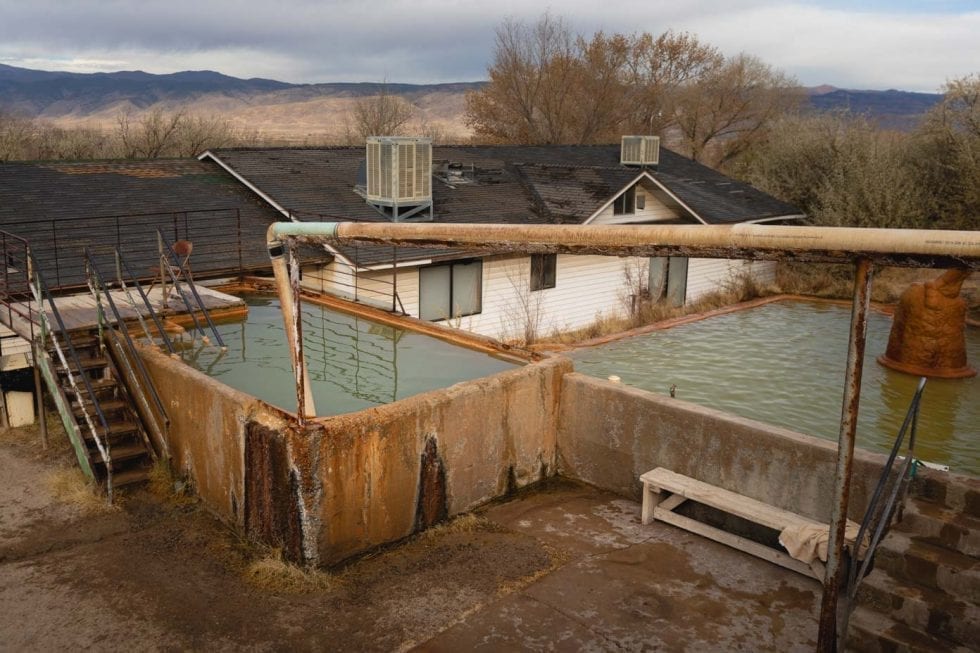 Once you've checked in, you're free to explore the various pools on the hill behind the main building.
From here you can see several enormous, orange travertine mounds that seem to be erupting from the ground. These are naturally occurring deposits of calcium carbonate, left behind as the spring water gushes out of the ground at 200 gallons per minute. These minerals are supposed to have restorative properties and give the water it's opaque, greenish colouring.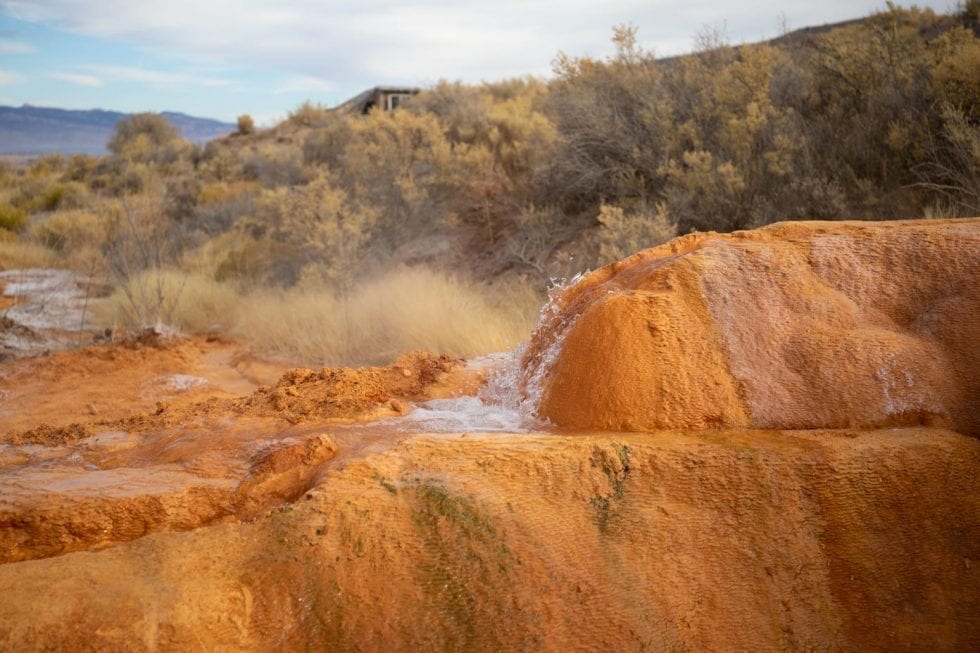 The next thing you might notice is that the area is littered with vintage iron bathtubs. There are 6 in fact, along with the 2 concrete swimming pools.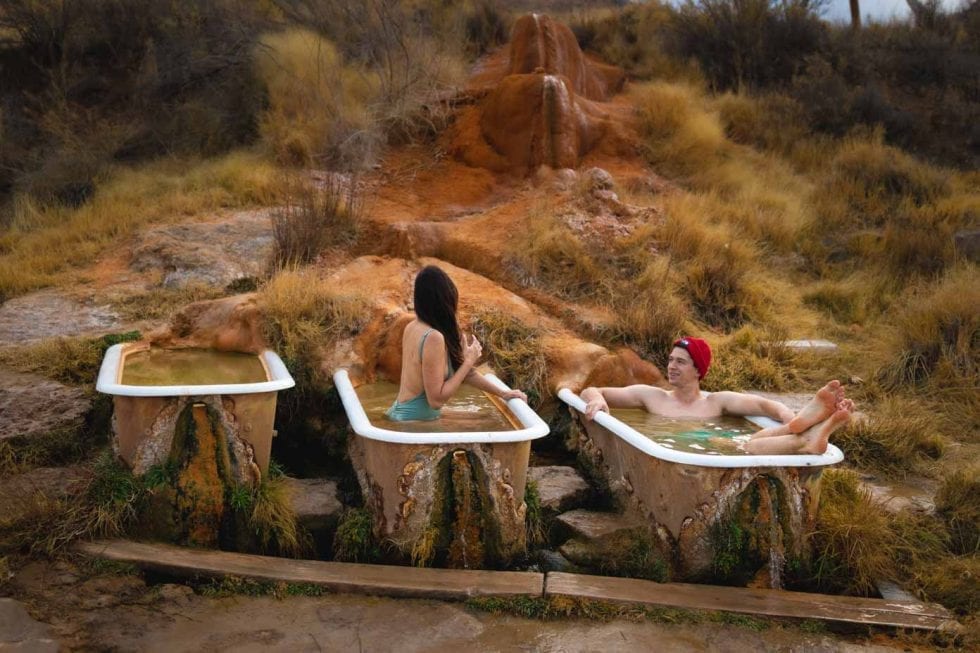 The most scenic bathtubs are the two placed directly under one of the travertine mounds, and over time they are slowly being engulfed by the mineral deposits. They make for some beautiful photos, not to mention a fantastic place to relax!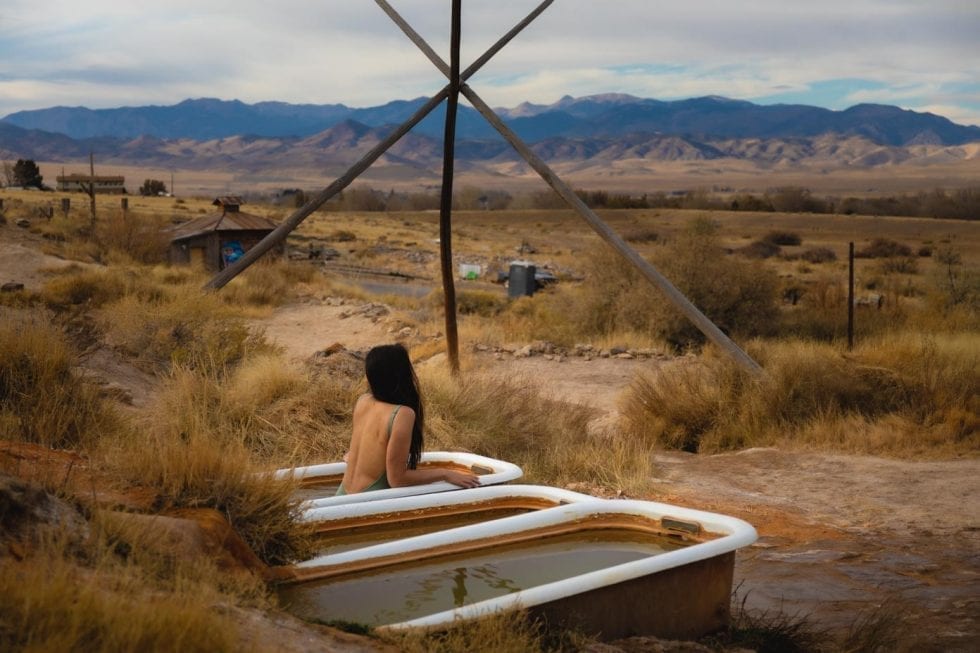 Is Mystic Hot Springs busy?
As the springs are open 24/7, Louise and I decided to visit around sunrise (7.30am). When we first arrived, there were a couple of bathers, but within 20 minutes every tub was filled. We visited in November, so I can imagine this place gets pretty busy during peak season or during regular business hours.
Arriving after hours
The springs are open 24/7, so it's possible to arrive before the offices open at 10am. In that case, just walk in the office entrance and put your entry fee (cash) in one of the envelopes provided in the doorway.
Or, if you've booked online, simply take an envelope and fill in your booking details on the envelope (including your booking reference) It's that simple. We showed up at 7.30am hoping for a sunrise and the system worked perfectly.
Where to stay?
As we were travelling from Capitol Reef National Park, we were arriving from the South and the closest big-ish town was Richfield. There are plenty of budget hotels/motels in Richfield and we ended up staying in a decent Quality Inn. It's only 10 minutes from Monroe and we figured it was a good option with a decent shower.
The Cabins at Mystic Hot Springs
If you want to do the full pioneer/hippie experience, then the alternative is to actually stay at Mystic Hot Springs in one of the rustic cabins or buses.
Surprisingly, the cabins and buses are relatively cheap to rent ($60USD per night + 30USD per additional person), and each has been lovingly restored using recycled materials.
The downside? No running water or private washing facilities. There's a communal shower and bathroom a short walk from the cabins/buses, however.
Normally, this might sound quite appealing, but seeing as we'd spent the past few nights getting filthy in Havasupai, we felt like we needed our own bathroom.
If we ever come back, you can guarantee we'll be renting Mystic Mike's old touring bus. You can book cabins and buses here.
How much does Mystic Hot Springs Cost?
Admission costs: $15 per adult $7.50 per child (10 and under) You can either register in person and pay in cash or book online.
Towels are not provided!
Tickets can be bought online here
Reaching Mystic Hot Springs from other Popular Locations
Mystic is easy to find by entering the details into Google maps.
Mystic is around 2hr 30 South of Salt Lake City in the Town of Monroe, Utah. Take the I-15 South, followed by the I-70 East.
From Zion National Park, Mystic is around 2hr 45 North East. Take the I-15 North, followed by the I-70 East
From Capitol Reef, Mystic is only 1hr 30 drive, through some incredibly diverse landscapes. When we did this, we were forced to take some very remote backroads, so having AWD is helpful.
Overall
Overall, Mystic Hot Springs are easily one of our new favourite hot springs in the US, and are right up there with the springs we've found near Mammoth mountain in California, and those in the Columbia River Gorge in Oregon. We definitely recommend checking them out if you're ever in Utah!