Discovering Oregon
I remember "accidentally" discovering Oregon a few years ago when we decided to hop in our car and drive from Banff, Alberta all the way down to sunny Disneyland in Anaheim, California.
We took 2 weeks to make the journey and drove most of the way along the West Coast. While Disneyland ended up being amazing, the highlight of our trip was definitely Oregon.
Probably one of the biggest reasons I was so impressed with it was that I had literally ZERO expectations. These were the pre-Instagram days and I had not seen or heard anything about it. What I saw blew my mind!
In short: Oregon is stunningly beautiful, and an Oregon road trip is an absolute must for any nature enthusiast.
It's filled with lush green forests, more hot springs than you can shake a stick at (here are 19 hot springs in Oregon), and it's the home of Portland, a city that's sure to bring out your inner foodie.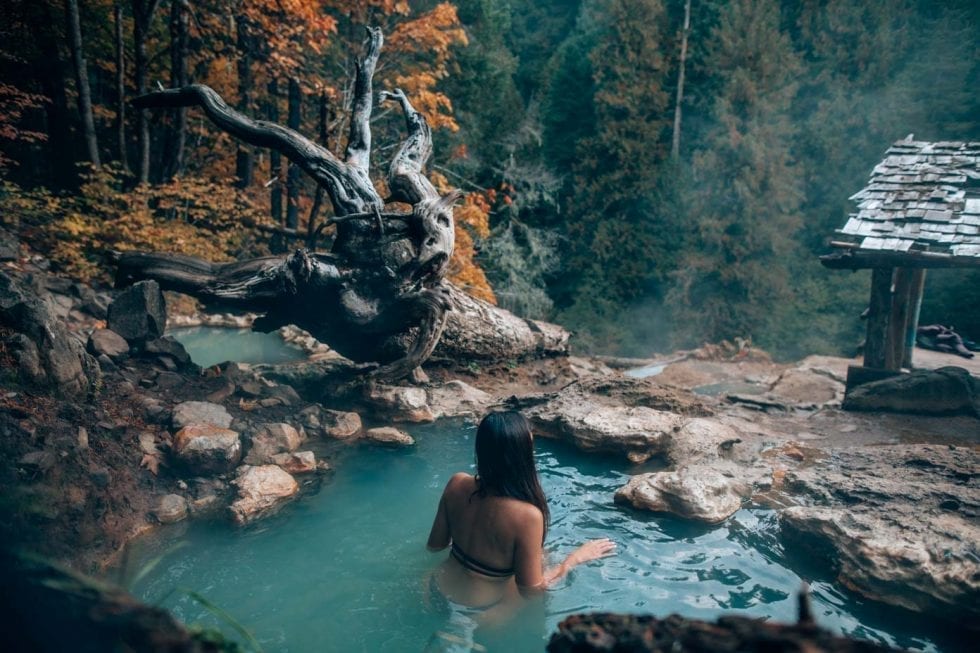 Our return to Oregon was packed with activities, so I've created a complete 4 day Oregon road trip itinerary of our favourite stops, photography spots, food recommendations and of course – hot springs.
DAY 1
Where to stay:
We landed quite late into Portland Airport (PDX) but still managed to drag ourselves out of bed for sunrise at Rowena Crest Viewpoint – a 1 hour 15 min drive from PDX airport. We stayed at a cheap hotel airport mainly because of the hour, but also because airport hotels tend to be the cheapest and we knew we'd only be there for a few hours.
Check here for the airport hotel rates
Stop #1: Rowena Crest Viewpoint
Sunrise was a great call for the Rowena Crest viewpoint. We had the entire place to ourselves and the light was perfect as it started streaming into the valley below.
There's no hiking involved with this viewpoint. There's an obviously labelled pull-in along the road and you can just hop out of your car and be there in a couple of steps.

Worth the early morning for sure! Actually, it's extremely rare that getting up ISN'T worth it. Now it's time to start heading back in the direction of Portland and down the coast…

Stop #2: Multnomah Falls
Multnomah Falls is insanely crowded, but no good Oregon road trip would be complete without it. This towering waterfall with it's perfectly placed bridge is a photographer's dream. To be honest, we didn't stay too long at this spot, but it's always worth the visit.
What we really wanted was to return to a hike nearby that we'd done the first time around – Oneonta Gorge – the first hike I'd ever done through waist-deep water! Turns out that due to the fires from 2017, this hike is indefinitely closed. (Information updated as of November 2019).
Near Multnomah and Oneonta you'll also find plenty of other scenic viewpoints, including Latourell Falls, which we decided to stop at this time (just a short 2 minute walk).
Stop #2 Cascade Locks
This was an unexpected stop along our route, but our good friend and fellow photographer, Sean, mentioned that it was the perfect time of year to see the salmon run, and that we should stop in at Cascade Locks to check it out!
We found our way to the edge of the river and found dozens of big salmon splashing around trying to get themselves upstream! We even spotted an enormous Sea Lion bobbing around in the water as we wandered around the shore.
After seeing all that salmon, we were all feeling a little peckish. And what better snack than some local seafood at Brigham Fish Market. The Chowder and smoked salmon was fantastic (although I'm pretty sure nothing will ever top the chowder we had on Monterrey Pier, California, a couple of weeks earlier), and was a perfect little break on our adventure through the Columbia River Gorge.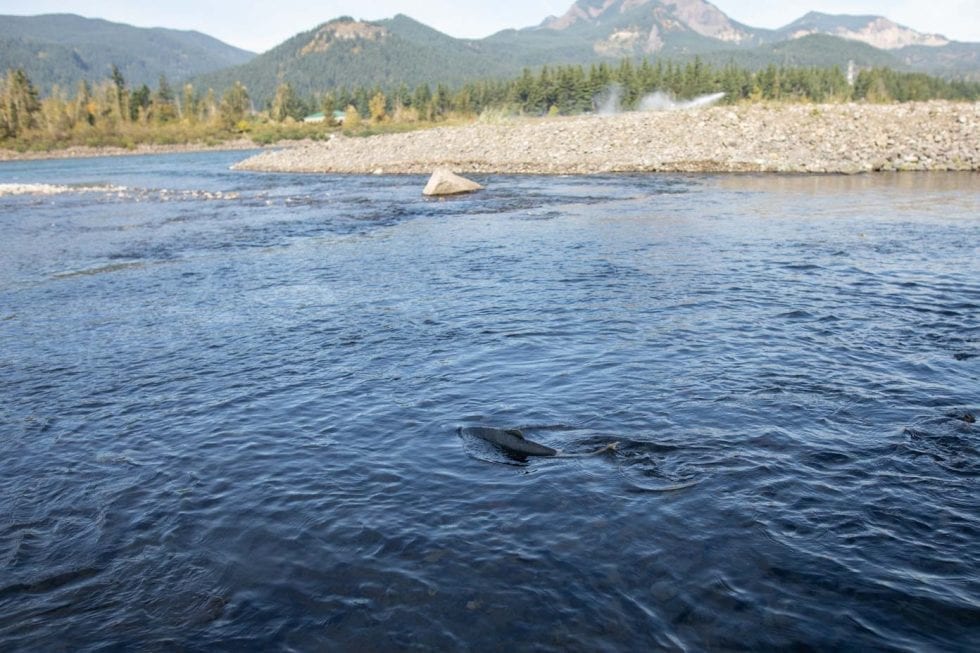 Stop #4: Hood River – lunch time!
Our good friend and fellow photographer, Sean, wanted to show us one of his favourite pizza places in the area so we stopped for lunch at Solstice Wood Fire Cafe & Bar in Hood River for some 'za! They had some insanely good vegetarian options which we were happy to see.

Hood River is an awesome little town that I would love to spend more time in. Definitely reminded me a bit of Banff, but much less crowded and WAY more breweries.
Our top pizza picks: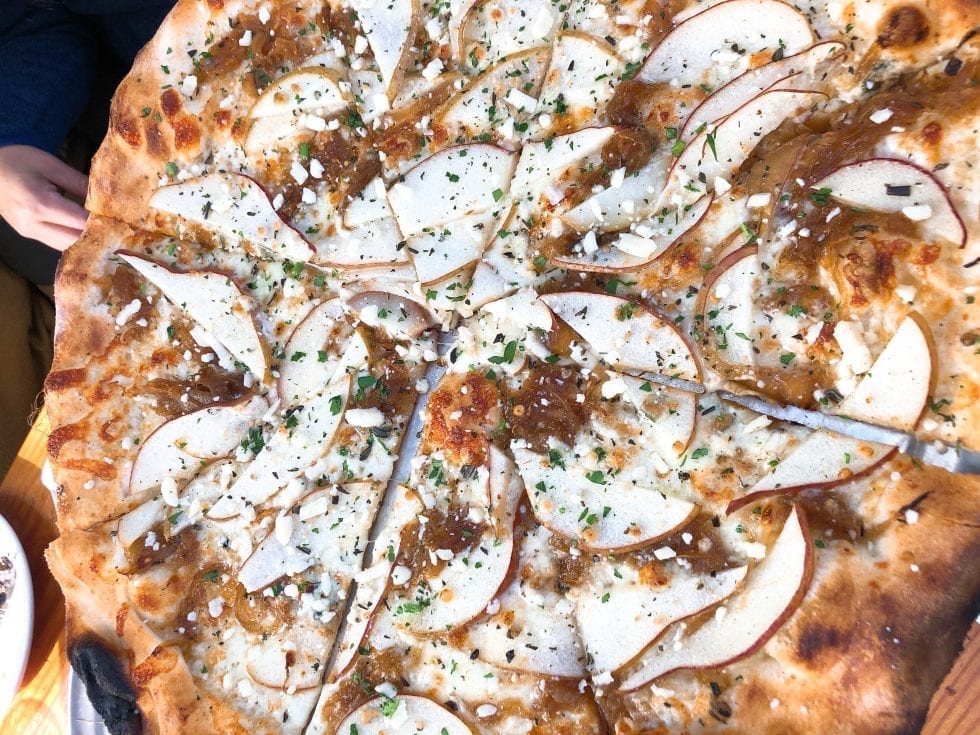 SIRAGUSA PEAR (V)
Local pears, bleu cheese, caramelized onions, & shredded mozzarella cheese
CREMINI (V)
Hood River Organic cremini mushrooms with goat cheese, shredded mozzarella, lemon zest, truffle oil, & herb mix
Stop #4: Timberline Lodge and Ski Area
For those of you who have seen The Shining (apparently I am in the minority of people who have NOT), this hotel was actually used in the movie as a filming location and its exterior is featured in the film and as inspiration. It's located halfway up the iconic Mt. Hood, and boasts expansive views of the surrounding countryside.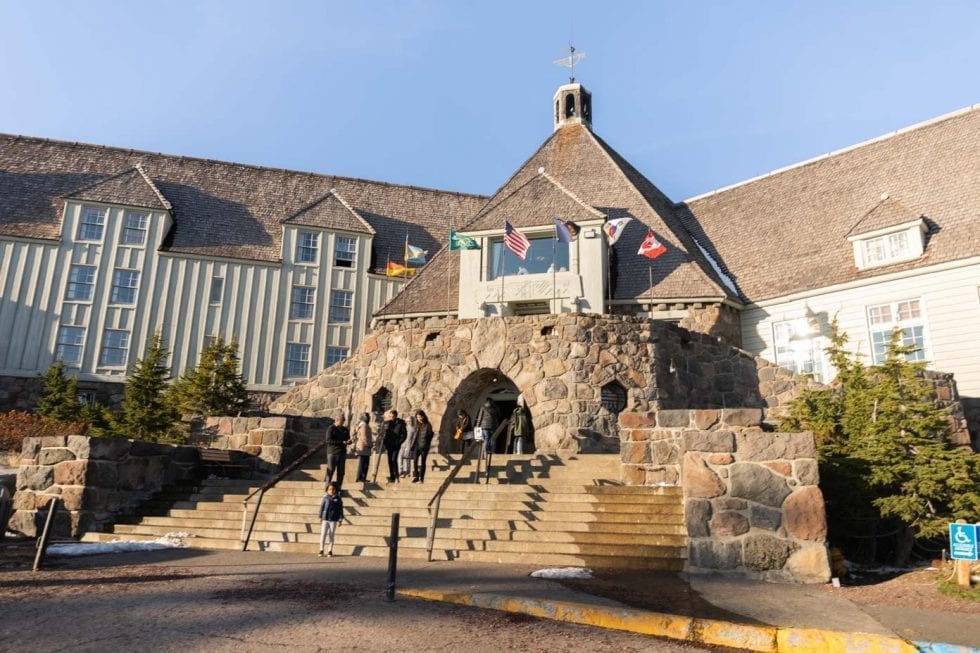 I definitely thought that would mean this place was a little bit on the spooky side and I was super excited, because I love spooky/haunted places (one of the biggest reasons we got married in the notoriously haunted Banff Springs Hotel)!
Alas, this place was neither spooky nor haunted, but they do serve up a freakishly large Bailey's with hot chocolate. The interior is gorgeous and we all mused about how impressive it was that this enormous lodge with huge beams was built in the 1930s.
Worth the stop? Definitely!
Stop #5: Trillium Lake
As the sun was starting to set, we made our last stop at Trillium Lake. It's a stunningly beautiful and quiet lake, with Mount Hood rising up behind it and if you're lucky, creating a reflection on its surface. There wasn't much in the way of reflections when we showed up, as there were fishermen all over the lake, but it was still a great spot to stop.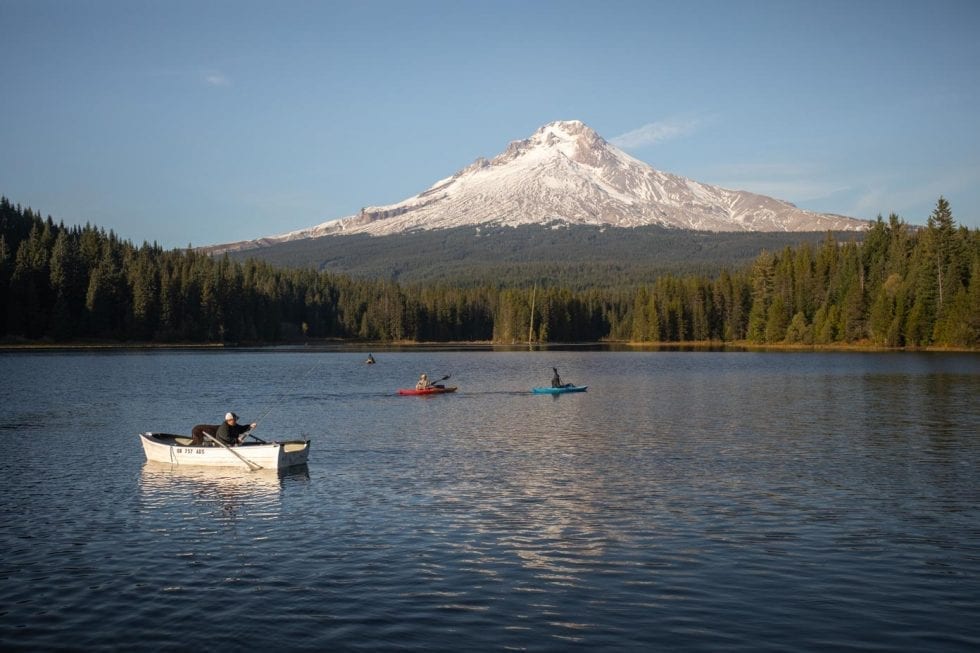 Stop #5: Portland – dinner time!
We had heard numerous good things about Poke Mon in Portland so we rushed to get there before it closed.
The verdict? While we've certainly had better poke in Hawaii and Las Vegas (there's actually a large Hawaiian population in Vegas!), this certainly hit the spot. The Kimchi Tako and Spicy Ahi Donburi were our favourites.

Next up was dessert time! While we really wanted to check out a place called Pip's for donuts, it was closed by the time we finished dinner.
Actually, pretty much everything was closed so we reluctantly headed to the only spot that was open – the famous 24hr Voodoo Doughnut. Why reluctantly? Well we'd heard that it was overpriced and overrated from several sources.
The verdict? I suppose I'm admitting that I'm no foodie by saying this, but it tasted pretty much like every other donut to me. That's not to say it wasn't delicious – it was! I'd pay $3 again if I was in the mood for something super sweet. Our choices: Raspberry Cannoli and Dirt (Oreo Cookie).
DAY 2
Where to stay
Eugene is the closest city to Willamette National Forest, so we stayed there. There are decent food options and it's less than 2 hours drive from Portland. Again, we stayed in a fairly basic (ex)Travelodge.
Check here for reservation options
Stop #1: Cougar (Terwiliger) Hot Springs
Hiking distance: 0.5 miles (15 minutes)
Fees: YES ($6 pp)
Up at the crack of dawn for some hot spring hunting! Cougar Hot Springs was one that we'd heard gets really busy so go early. Turns out, going early really doesn't change much. It's still really busy.

This area was obviously hugely affected by the fires as well and what used to be lush, green forest is now somewhat charred. Extremely unfortunate to see but this place is still magical nonetheless and no Oregon road trip would be complete without it.
There are 4 pools there, each with differing temperatures. Starting with the hottest at the top and becoming more lukewarm towards the bottom.

KNOW BEFORE YOU GO: This pool, as with most of the natural hot springs in Oregon, is clothing optional. More people than not opt to go nude.
Read more about our full experience at Terwiliger Hot Springs here.

Stop #2: Tamolitch Falls (Blue Pool)
This is a 4 mile round-trip hike that takes you to the most stunningly blue pool in the middle of the forest (we didn't realise it was this long when we set off!). We did this in the morning right after our stop at Cougar Hot Springs and I have to say this: morning is not the time to go.
Our plan was to see the brilliant blue water but the morning positioning of the sun left it dark and shaded. We waited a little, but this place is obviously experienced best later in the day and earlier in the summer when the sun reaches a higher point in the sky.

We put the cameras down and just enjoyed exploring for a bit and the longer we stayed, the more blue you could see as the sun moved across the sky and hid behind the trees. I'm guessing most people who take photos of this place do it in the late afternoon.

A beautiful spot regardless!
KNOW BEFORE YOU GO: If you're here for photography, plan to be here in the late afternoon so that the glare from the sun doesn't ruin your photos!
Stop #3: Bigelow Hot Springs
Our last hot springs stop of the day was Bigelow Hot Springs, also known as Deer Creek Hot Springs. This one is super easy to access, as it's a short walk from the parking lot and right along the river.
We saw a few people relaxing in the hot spring and then running into the freezing cold river to cool down. It's a great way to get your circulation going, but we weren't feeling brave enough.

This pool was really enjoyable, although it's definitely not as hot as Cougar Hot Springs and significantly smaller as well (I would estimate that a maximum of 6-7 adults could comfortably sit in this pool before it felt too crowded). Again, this pool was clothing optional and most of the bathers we sat with were nude.
You can read more about our experience at Bigelow Hot Springs here
DAY 3
Stop #1: Umpqua Hot Springs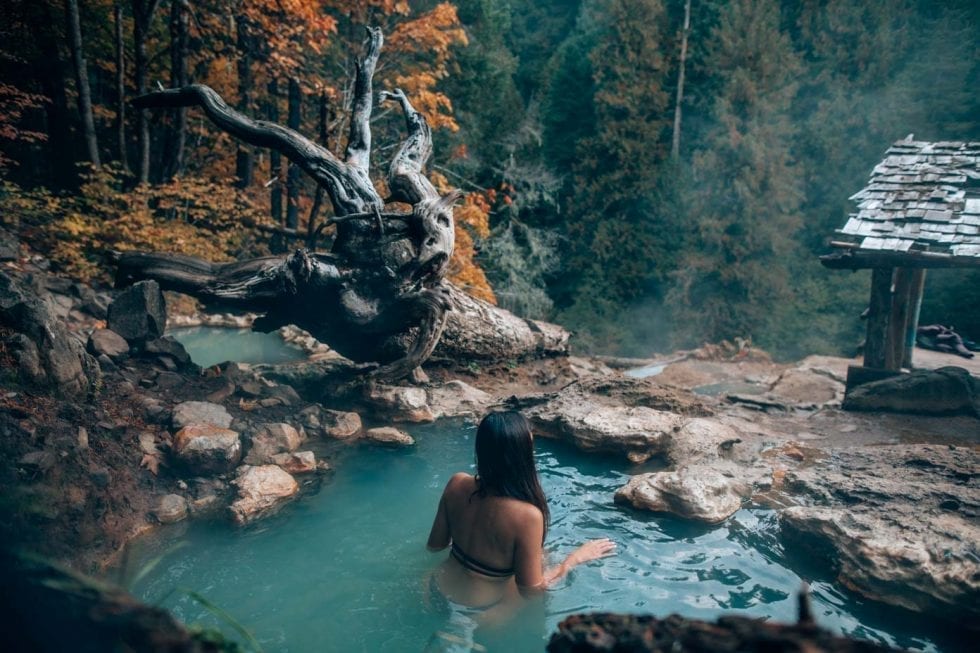 Hiking distance: 15 minute walk from the parking area
By far our favourite hot spring! So much so that we've written a complete blog post all about it here.
We miraculously had this place to ourselves after being warned about how busy it gets, so we couldn't have been happier. Umpqua was really the highlight of our Oregon road trip.
As you can probably tell, Oregon is all about hot spring hunting. If you want to find out more about them, check out our post on 19 of the best hot springs in Oregon for more information!
Stop #2: Toketee Falls
Hiking distance: 20 minute walk from the parking area
This is one of my personal favourite waterfalls ever! We've written about the trek to get down to Toketee here.
This place is only a 5 minute drive from Umpqua Hot Springs so it definitely makes sense to do both these in the same day.
Optional extra – Crater Lake
We didn't visit Crater Lake this time, but if you're efficient with your time you could comfortably squeeze in a quick visit to arguably one of the most breathtaking lakes in the world. Crater Lake is slap bang in the middle of nowhere, but it 100% worth the effort. It's a lake made entirely of royal blue rainwater and is one of the deepest lakes in the world.
You can read more about it in our blog post from our last Oregon road trip.
Stop #3 – Our Bed for the Night
Treehouse A Frame Cabin in Shasta Lake, California
Saying goodbye to Oregon and hello to California!
Readers of our blog know that we are huge fans of staying in treehouses (like this treehouse in East Kootenay, BC) There's something so soothing about hiding away in a quiet forest with nothing but a book to keep you entertained. Treehouse A Frame (treehouse.ourvie.com) is probably our favourite treehouse yet.

If I could build my own home, it would look pretty similar to this place. Not only did we have easy access to beautiful Lake Shasta, gorgeous views and total peace and quiet for our entire stay, but this place literally looks like its straight out of a fairytale.

I'll let the photos do the talking here!
Included in your stay: full kitchen, fireplace, wifi, extensive reading shelf, binoculars for wildlife viewing, hot tea & coffee, hilarious bathroom reading, a BBQ, and a TV.
You can make reservations here
DAY 4
Where we stayed:
San Francisco has literally hundreds of great hotels and bnb's. We stated downtown at the Hilton in the financial district, which was great but arguably in quite a sketchy part of town.
Stop #1: Battery Spencer Hike
After a fantastic night at the Aframe Treehouse, we hopped in the car and continued on down to San Francisco for the last leg of our journey. And what trip to SF is complete without stopping for a look at the famous Golden Gate Bridge!
We've been to San Franciso several times now, and have looked at the Golden Gate Bridge from virtually every angle possible. I think this time we finally found the perfect place to see it from.
Let us introduce you to the view from Battery Spencer. It's a short hike up a hill to the viewpoint and you can tell even before you start the hike that the views are going to be good.
Parking can be tough for this spot but the turnover is relatively high so if you just stick it out, you're sure to find a good place to park. Make you sure you don't pull over too early either, there are 3 pull-ins along the road that offer views of the Golden Gate but they're just viewpoints.
Stop #2: Ghiardelli Ice Cream & Chocolate Factory
Home of the "World Famous Hot Fudge Sundae" – believe me, you'll want to make time for this stop. It's a chocolate factory with a cafe that almost exclusively sells chocolate sundaes. We've tried the banana split and the hot fudge sundae so far, and what we've learnt is that there's absolutely no wrong choice!
Optional add-ons:
Take a wine tour to Napa Valley and Sonoma
We took one of these tours during our last visit, and believe us, they're a lot of fun. On our tour, we stopped at 3 vineyards as well as a quick stop at Muir Woods first. It was a long day of 'day-drinking', punctuated by an awesome lunch in Sonoma. It was a real endurance race, but a lot of fun and we highly recommend it.
Overall
There's so much to see in Oregon and California that 4 days might turn into several weeks. This was a whistle-stop tour through some of the absolute highlights of Oregon and Northern California and should appeal to anyone that likes good food and the outdoors! It's a lot of driving and a fairly roundabout route, but if you want the best California and Oregon road trip, you have to be prepared to go the extra mile!
If we've missed anything, feel free to comment below and let us know and we'll be happy to add it to the list!
Pin This!