Thinking about spending Valentine's Day in Banff? Good idea! The holiday is quickly approaching and for all the planners out there like me, you're probably looking to craft the perfect weekend getaway or romantic evening with your lover. Sure, you could go out for an overpriced dinner in Calgary but why do that when you have a way more romantic option just an hour away? That's right, I'm talking about an escape to the mountains.
THE BEST PLACES TO EAT IN BANFF ON VALENTINE'S DAY
Banff is the perfect place to try some of the best cuisines from around the world and many local restaurants offer amazing Valentine's Day dinner deals. We've tried a few and here are our favorites:
-The Waldhaus (4 course fondue dinner for 2)
-The Balkan (the Greek platter for 2)
-The Eden at the Rimrock Hotel (They usually offer a 6 course Valentine's menu) – Banff's only 5 Diamond restaurant
Looking for something a little different?
Why not go to the Grizzly House Fondue Restaurant. Back in the day it was a swingers restaurant, and to this day each table still has a phone on it that you can call other tables with. Call a stranger and who knows where the night may lead!
SOAK IN SOME RELAXING HOT SPRINGS IN BANFF
There are more than a few options if you're looking for a warm soak in Banff. Of course, everyone knows about the Upper Hot Springs run by Parks Canada that gives you a great view of the mountains. Here a few more of our secret spots to take a dip:
ROMANTIC VALENTINE'S DAY ACTIVITIES IN BANFF
-Check out what's left of the Lake Louise Ice Magic Festival where talented artists from around the world compete in an epic ice-carving competition. You can also rent a pair of skates and check out the enormous castle made out of ice in the middle of the frozen lake. It's one of the world's most gorgeous views, what else would you want from Valentine's Day in Banff?
-Rent some gear from Wilson's Mountain Sports in Lake Louise and try cross-country skiing the Moraine Lake access road. It's quiet, stunningly beautiful and you'll get a real workout (cross-country skiing works out all your muscles)!
-Rather cuddle up and enjoy the ride? Lake Louise offers both sleigh rides and dog sledding for couples who want to take in the scenery for minimal effort. You'll also get the most stunning views of the lake from above! (Check rates here!)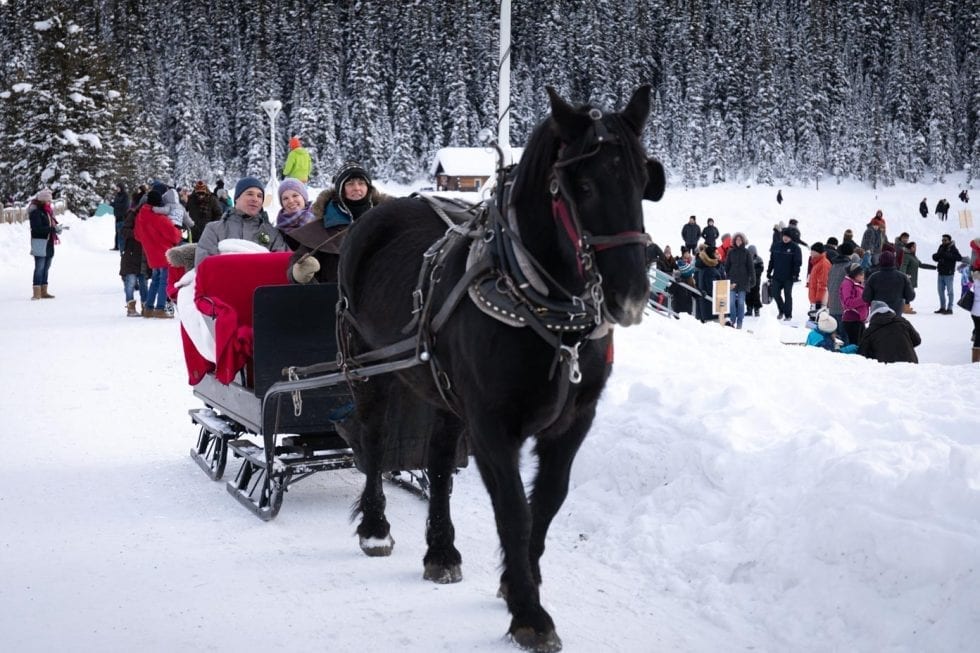 STAY THE NIGHT IN BANFF NATIONAL PARK
Looking for a romantic cabin complete with a fireplace and relaxing hot tub? Here are our top romantic picks for Valentine's Day in Banff & Lake Louise:
There you have it, some of our Banff favourites that'll turn your day into something special! Oh, and don't forget to check out our post on other great winter activities in Banff!
Pin this!