Thinking about spending Valentine's Day in Banff? Good idea! The holiday is quickly approaching, and if you're anything like me, you're probably looking to craft the perfect weekend getaway with your partner.
Sure, you could go out for an overpriced dinner in Calgary but if you really want to make Valentine's day special, you have to head to Banff. If you really want to blow your partner's socks off, a mountain retreat is just the ticket!
This post is packed with romantic ideas and things to do in Banff, so let's dive in!
Go for a romantic breakfast in Banff
If you really want to start the day off with your best foot forward, taking your love for a delicious breakfast is good move.
Here are our two recommendations for the best breakfast in Banff:
Tooloulous – This is hands down, the best breakfast in Banff on any day of the week. A huge menu with anything from peaches and pecan waffles to shrimp and crab eggs benedict. Expect lines out the door!
The Vermillion Lounge at the Fairmont Banff Springs – If you're visiting on a weekend, the Vermillion Lounge is known for its brunches. It used to be our favourite but sorry, now we go to Tooloulous! This is where you'll go if you want something a bit fancier. Bonus points for breakfast mimosas!
Go for a skate and a hot chocolate
Nothing is more romantic than taking your partner for a skate on a real frozen lake. There are plenty of options around the town, so you can usually find a secluded spot somewhere!
Read the blog post link above for all of our skating recommendations or just try Lake Louise or Vermillion Lakes!
After you've finished, head indoors to warm up with a hot chocolate and a warm fire place. Maybe even throw some baileys in there too if you're really trying to relax.
Here are a few places you can grab a decent hot chocolate:
The Fairmont Banff Springs serves excellent hot chocolate at STOCK (the Cafe in the entrance foyer)
Whitebark Cafe on Banff Avenue
Mcdonald's on Banff Ave (c'mon, we're all thinking it)
Or if you want to make your own, I'd recommend heading to Nester's grocery store, and grabbing all the hot chocolate, milk, marshmallows you need. Then head next door to Side Street Liquor to grab your baileys.
The best places to eat in Banff on Valentine's day
Banff is the perfect place to try some of the best cuisines from around the world and many local restaurants offer amazing Valentine's Day dinner deals. Here are our favourite restaurants that offer something a little bit special:
I recommend booking all of these restaurants in advance
Enjoy one of Banff's hot springs or spas
There are more than a few options if you're looking for a warm soak in Banff with your partner.
Everyone already knows about the Banff Upper Hot Springs with their spectacular mountain views, so here a few alternative spots to take a dip:
The Willowstream Spa at the Fairmont Banff Springs
The Willowstream Spa at the Banff Springs also offers a large outdoor hot pool with a view, PLUS the spa itself has a range of hot waterfalls and pools with different saline levels to rebalance. It's so relaxing and who doesn't love a spa day?
The Fox Hotel
The Fox Hotel boasts a replica of the original hot springs caves at the Cave & Basin. This is one of the coolest hidden gems in Banff, but unfortunately it's for hotel guests only. If you're interested in booking a room at the Fox, click here.
The Hidden Ridge Resort
The Hidden Ridge Resort offers a gorgeous hot tub with a view with their pools set into the side of a hill looking out over the mountains – heaven. Check out today's rates here
The Meadow Spa and Pools at The Moose Hotel
The Moose Hotel is one of Banff's newest hotels, and has a fantastic spa and rooftop pool. The pools/hot tubs are the perfect spot for a romantic evening, and their rooftop fire is a great spot to curl up together. Check the rates here!
Kananaskis Nordic Spa
If you're willing to drive a little bit further afield, I would highly recommend visiting the Kananaskis Nordic Spa, buried in the Kananaskis wilderness. It's full of saunas, steam rooms, hot pools, salt scrubs and more, and is the ultimate romantic getaway. Read more about our experience at the Kananaskis Nordic Spa here.
ROMANTIC VALENTINE'S DAY ACTIVITIES IN BANFF
While eating, drinking and relaxing is certainly relaxing, it's not for everyone. Maybe you and your partner are looking for something a little more active!
Here are a few more active valentine's day ideas in Banff National Park:
The Ice Magic Festival at Lake Louise
Check out what's left of the Lake Louise Ice Magic Festival where talented artists from around the world compete in an epic ice-carving competition. We've already mentioned skating here, but seriously, you have to do it! It's one of the world's most gorgeous views, what else would you want from Valentine's Day in Banff?
Here's a list of 10 awesome things to do in Lake Louise in Winter
Cross Country Skiing up the Moraine Lake Road
Rent some gear from Wilson's Mountain Sports in Lake Louise and try cross-country skiing the Moraine Lake access road. It's quiet, stunningly beautiful and you'll get a real workout (cross-country skiing works out all your muscles)!
Don't feel like a serious workout? Try XC skiing across Lake Louise instead!
Sleigh Rides and Dog Sledding at Lake Louise
Rather cuddle up and enjoy the ride? Lake Louise offers both sleigh rides and dog sledding for couples who want to take in the scenery for minimal effort. You'll also get the most stunning views of the lake from above! (Check rates here! – Booking is advised)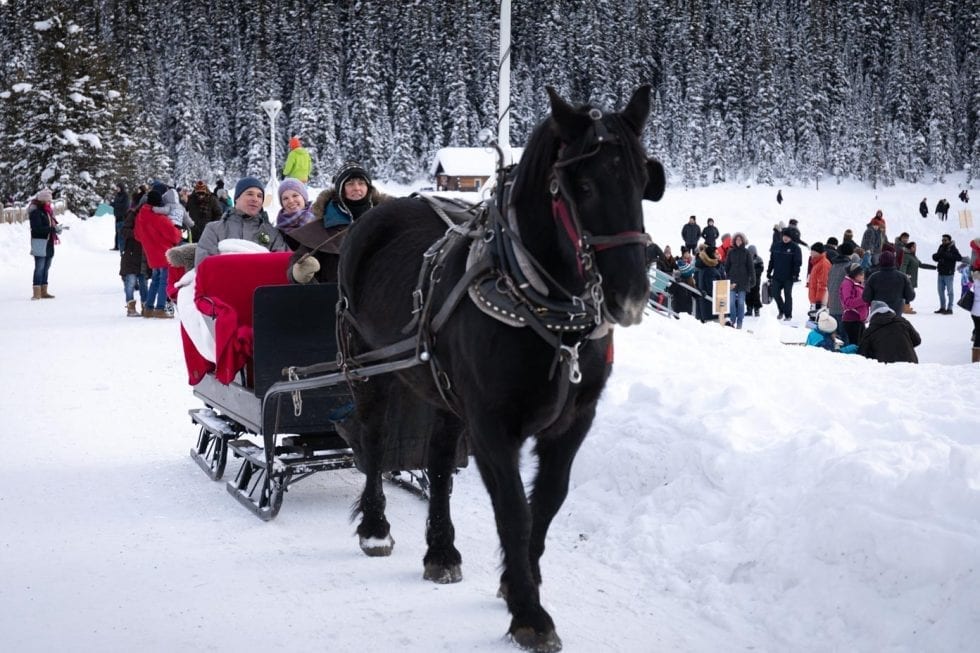 Skiing at Lake Louise, Sunshine Village or Mt. Norquay
What better way to spend the day with your partner than shredding one of Banff's 3 incredible ski resorts.
Looking for something a little different? Single and looking to mingle?
The Grizzly House Fondue Restaurant
Why not go to the Grizzly House Fondue Restaurant. Back in the day it was a swingers restaurant, and to this day each table still has a phone on it that you can call other tables with. Call a stranger and who knows where the night may lead!
It can get a bit annoying if you're trying to have a romantic date and the phone keeps ringing though, so know what you're getting into!
Mt. Norquay's Lifts of Love
This is possibly the best idea of all time, and we actually know two people that ended up getting married after meeting on this special night at Mt. Norquay.
Head to Mt. Norquay in your ski gear, and take the high speed chairlift with another stranger looking for love! Roll the dice and hopefully find love! Or experience the most awkward few minutes of your life…
Afterwards, head to the Lone Pine for a social. Free transport for anyone with a ticket.
Speed dating runs from 7p-9pm this Friday February 14th, 2020.
Tickets cost $20, plus an additional $25 if you need a lift ticket.
STAY THE NIGHT IN BANFF NATIONAL PARK
Looking for a romantic cabin complete with a fireplace and relaxing hot tub? Here are our top romantic picks for Valentine's Day in Banff & Lake Louise:
Deer Lodge in Lake Louise
Deer Lodge: nestled right in the mountains, delicious dining available right inside the hotel and complete with a hot tub with an epic view! Check here for rates!
Emerald Lake Lodge
Emerald Lake Lodge: rather spend the evening with nobody else around, surrounded by gorgeous scenery and the stars? This iconic lodge is not only comfy, it's absolutely stunning. Check here for rates!
Pomeroy Kananaskis Mountain Lodge
This is a fantastic secluded hotel in Kananaskis, attached to the Kananaskis Nordic Spa. They have fantastic food and plenty of great winter activities for couples. It's a great place to go to escape the crowds in Banff.
In Conclusion
There you have it, some of our Banff (and Kananaskis) favourites that'll turn your Valentine's day into something special! Oh, and don't forget to check out our post on other great winter activities in Banff!
Pin this!