Whether you're visiting Lake Louise in the summer or the winter, there are dozens of amazing activities and things to do. Most people just show up and walk around the lakeshore, but they aren't really doing this beautiful area justice.
The hiking trails are endless, the wildlife spotting opportunities are plentiful and the food is world-class. Some of these activities you may have heard of, others may surprise you!
I've lived here my entire life and I've only discovered some of these things this summer. Without further ado, here's our complete list of things you can do in Lake Louise, regardless of the season. Use the table of contents below to skip to specific activities or skip to the end for our top tips on planning your visit .
Things to Do in Lake Louise in Summer
1. Hiking
Hiking is, of course, the most popular thing to do in Lake Louise during the summer months. There are at least 10 incredible trails that all begin at the shores of Lake Louise, with many more if you head up to Moraine Lake, or across the valley to the Lake Louise Ski Hill area and beyond. The options for hiking at Lake Louise are virtually endless, and honestly, they're some of the best hikes in Canada. Our personal favourites at Lake Louise are Devil's Thumb and the Big Beehive trail.
There are hikes for all abilities, ranging from short hikes around the lake shore, all the way up to the towering peaks looming above the Fairmont (Mount Fairview and Mount St. Piran).
Seriously, the hiking at Lake Louise is world class, make sure you check off at least one hike or walk before you leave!
When is the best time to hike at Lake Louise?
Honestly, I don't usually hike at Lake Louise at all until July. Lake Louise is at a relatively high altitude, so much of the snow at the peaks won't melt until at least July, making hiking far more challenging.
The Lake Agnes teahouse opens quite early in the season, but you can't get any higher because of avalanche risk. Lake Agnes doesn't generally even thaw until early June!
2. Lake Louise Gondola
Across the valley from Lake Louise is the Lake Louise skiing area. In winter, Lake Louise has some of the finest skiing in the Canadian Rockies, but did you know you can also visit in Summer?
The Lake Louise summer gondola is a real hidden gem in Alberta, and is easily our favourite gondola experience near Banff. The reason? The views and food are exceptional, and the value for money is unbeatable.
Buy a gondola ticket for $56 (for adults), and they throw in a $25 food and beverage voucher. That's enough to buy almost anything on the menu (ok maybe not the surf and turf)! They also have a brilliant cheese fondue option and a very creative cocktail selection. I can't recommend the food enough or the amazing views that you'll enjoy as you eat your lunch!
The other reason the gondola is amazing is because it's a fantastic place to see Grizzly Bears! The entire Lake Louise area is one of the best Grizzly habitats in Banff National Park, and right under the lift line is a great place to see them. In July, the clear slopes are the perfect place for dandelions to grow (a Grizzly's favourite summer snack), so it's pretty common to see them grazing under the lift line. The last time we visited we saw 3 bears going up and 3 again on the way down!
If you want to see grizzlies safely, I really can't think of a better way to do it. For prime viewing times, I would recommend the morning or evening – just like we don't like hanging out in the sweltering sun, the bears tend to feel the same way.
3. Rent Bikes or E-Bikes
This is an awesome way to explore the Lake Louise area, Moraine Lake area or the Bow Valley Parkway. Last time we stayed at Chateau Lake Louise, we took e-bikes down the hill, across the highway and along the Bow Valley Parkway all the way to Morant's Curve (an iconic spot to see the trains come through). It's a great way to get some exercise, explore the area a little and get some fresh air.
E-bikes add a whole new dimension to the experience. Both the Fairmont and Wilcox Sport down in the village rent electric bikes, and considering how hilly the Lake Louise area is, it can really make the entire experience far more enjoyable. The e-bikes really come into their own on the hill back up to Lake Louise (from the village) or on the entirely uphill journey up to Moraine Lake!
Alternatively, just bring your own bikes and cycle around!
4. Visit the Teahouses
Lake Louise is famous for its teahouse hikes, and there are actually two to choose from in the area; either the Plain of the Six Glaciers Teahouse at the back of the lake or the Lake Agnes Teahouse up by Lake Agnes. The Lake Agnes Teahouse is very popular as it's so close to the hotel (about an hour's hike), and as most people can make the short trek the lines can get really long.
The Plains of the Six Glaciers Teahouse is a lot further away, but not particularly challenging as far as Lake Louise hikes go. You can read more about the hike to the teahouse here (including opening times and visiting information).
Definitely bring cash for the teahouses, because the credit card fees are huge, and aim to be there early to avoid the lines.
5. Canoe on the Lake
Canoeing on Lake Louise is naturally one of the most iconic things you can do in Lake Louise in the summer. Everyone wants to experience one of the famous red canoes floating on the turquoise glassy Lake Louise waters, and it's definitely one of the major bucketlist things to do here.
We absolutely loved canoeing here last time; although it turned into a bit of an adventure when a thunderstorm hit and we had to frantically paddle back as quickly as possible!
The important things to know about Lake Louise canoe rentals are all listed here on our complete guide to renting a canoe in the Canadian Rockies (guide to literally every lake you can rent at), but here is the TL;DR:
Lake Louise canoe rentals range from $95 at the beginning of the season, to $150 in the peak season. Chateau Lake Louise hotel guests get a good discount and also have access to a separate lineup, meaning you'll always get boat priority.
Be warned, when we stayed in early July, the boats were all rented out within 28 minutes after opening, and then there was a 1.5 hour wait for the next boat. It pays to be there when they open!
6. Go Horseback Riding
You might not know it but behind the Fairmont Chateau Lake Louise, there's a riding stables that offers several miniature trekking adventures for the more adventurous visitor. The most well known is the pony trek up to the Lake Agnes Teahouse, which plods all the way up the short hike and drops you right at the base. It makes the teahouse accessible to absolutely anyone (as long as you're comfortable sitting on a horse!).
The other popular trek is around the back of Fairview Mountain towards Paradise Valley, although there are dozens of routes and day trips you can take on horseback. In fact, you can also book multiday treks that are up to 10 days long!
7. Visit Moraine Lake
I've already touched on this already, but Moraine Lake is one of the biggest highlights in the Lake Louise area. It's about 20 minutes away by car, but you can also cycle up there in just over an hour (more or less, depending on your fitness levels).
Moraine Lake is the absolute jewel of the Canadian Rockies, and is a must see on any visit to Lake Louise. There are also endless hikes to explore once you've arrived!
2020 is an interesting time, so the logistics for Moraine Lake are still complicated. Arrive super early or later in the evening for the easiest access. Shuttle buses aren't running currently and the road closes once the parking lot is full. Here is our most up to date Moraine Lake planning guide.
Things to do in Lake Louise in Winter
We've already written our massive list of the top `41 things to do in Lake Louise in Winter`, but there's a short version here as well!
1. Ice Climbing
Hike to the back of Lake Louise and you'll find a bright blue frozen waterfall that's very popular for ice climbing. We've never done it here ourselves, but there's virtually always someone climbing there in winter!
2. Cross Country Skiing
Cross country skiing across Lake Louise in Winter is one of our favourite things to do. It's a great place to learn, as the trail is completely flat, and it's not too long for people that aren't interested in skiing for miles and miles! Finally, don't forget that you actually get to ski across a frozen lake!
3. Skiing at Lake Louise Ski Resort
It goes without saying that Lake Louise is one of the best skiing destinations in the world. The snow is fluffy, the terrain is wild, and there are more tree runs than you can shake a stick at. If you haven't skied at Lake Louise before, trust me, you need to go and check it out!
On top of that, the food and facilities there are excellent, and there are a number of great events each winter, like the Torchlight dinner! Stay at the Fairmont, head up to the top of the gondola, ski down in the dark, and finish the night with a huge buffet and a dance.
Oh and don't forget, this is also a world class area for back country skiing. Check out Skoki Lodge for winter backcountry skiing!
4. Snowshoeing at Lake Louise
Snowshoeing isn't for everyone. Even I have found it a little tedious at times. But, if you just want to get out in the snow and want to wander around a bit, snowshoes make it infinitely easier. There are a number of great trails in Winter to explore, and if you can walk, you can snowshoe! It's a great option for anyone that doesn't want to go skiing or do anything too active.
5. Ice Magic Festival
The Ice Magic Festival is a seasonal festival that takes place each year in January. The main event is an international ice sculpting contest, with ice sculptures that will absolutely blow you away! There's also always an ice castle on Lake Louise that makes for some fantastic photos! There's also usually an ice bar outside the fairmont where you can grab cocktails and hot drinks.
6. Bavarian Curling
This is usually a quaint little activity put on by the Fairmont. It's a smaller version of curling that kids seem to love, and you'll find it right behind the Fairmont, outside the Poppy Brasserie.
7. Ice Skating
Nothing is more Canadian than Ice Skating, and nowhere is more iconic than skating on a frozen Lake Louise. It's also one of the few frozen lakes that is actively maintained, so if you actually want to skate somewhere frozen, you can guarantee this place will be an option (there are actually a number of great frozen lake skating options to choose from in Banff).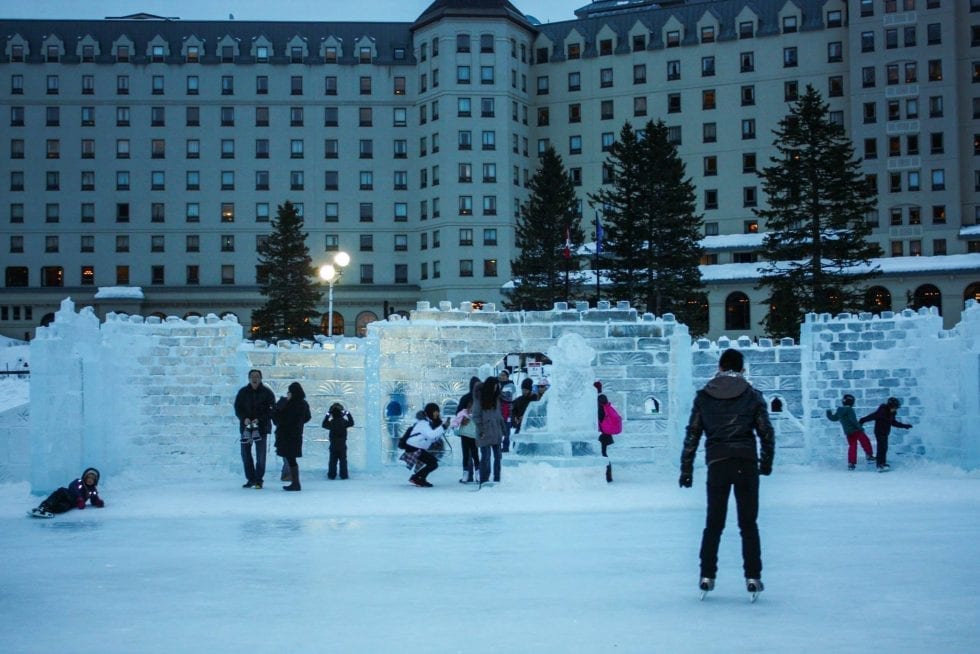 Where to Eat in Lake Louise
The best restaurants in Lake Louise
Over the years we've tried virtually everywhere in Lake Louise. Here are our favourite places to eat in the Lake Louise area:
Walliser Stube: Easily the BEST fondue experience in the Rockies and is located at the Fairmont Chateau Lake Louise Hotel. Make sure you try the Chateau Experience which consists of a mouth-watering 3 course fondue dinner which includes cheese fondue, chateaubriand steak and a Toblerone chocolate fondue course!
The Whitehorn Bistro at the Lake Louise Ski Resort, as mentioned earlier.
The Post Hotel: They have an excellent restaurant in the main hotel, and their Sunday brunch is fantastic!
Deer Lodge's Mt. Fairview Dining Room: They have a great selection of exotic Canadian meats like Elk, and Caribou, all locally sourced (not from the Park), and some fantastic desserts too!
Lake Louise Ski Resort's Whitehorn Bistro: You'll have to take the gondola up here, but the food and views (particularly in the summer) are easily the most expansive and epic in the area. We mentioned above how much we loved our experience up there, and it's really a hidden gem. They have cheese fondue and even surf and turf on the menu!
Afternoon Tea at the Fairmont Chateau Lake Louise: This is the most boujie, luxurious option at Lake Louise. It's a chance to sit with finger sandwiches and a mimosa in front of the beautiful view. You'll also get to escape the crowds. Reservations recommended!
Quick bites in Lake Louise
Laggan's Mountain Bakery located in the Lake Louise Village offers a stunning selection of pastries and sandwiches that are perfect for throwing in your backpack before a hike. Our favorite picks? The Nanaimo bars, vegan energy bars and sausage rolls are our faves.
The Trailhead Cafe offers weary hikers and sunset-getters an opportunity to load up on caffeine and yummy snacks. The wait times can be long for this place but they are worth it. Our favorite picks? The Pepperoni Sticks or the Reuben Sandwich.
Where to stay in Lake Louise
Our favourite place to stay in Lake Louise is the Fairmont Chateau Lake Louise. You're right in the middle of the action and particularly this year when travel is so restricted, there are some great local deals. You can rent canoes (and join the priority queue if you're a guest! HUGE BONUS) or hike right from the shoreline, without ever having to touch your vehicle. Not to mention, staying here means you get access to the best food options.
For the best hot tub in Lake Louise, you can't beat the views from Deer Lodge's rooftop hot tub!
For the best reasonably priced hotels, I usually recommend either the Mountaineer Lodge or Lake Louise Inn. Both are down in Lake Louise Village, so they're a little further away, but in return the prices are a bit more reasonable. (click any of the links above for rates)
You can also check our complete guide to hotels in Banff and Lake Louise here
When is the best time to visit Lake Louise?
This honestly depends on what you're after. If you want to see the classic bright blue/green colors and enjoy summer activities like paddling at Lake Louise, I generally recommend late June or early July, as usually the lake stays frozen until much later than you might expect.
If you're after that perfect turquoise water, I'd suggest later in the summer to guarantee that amazing colour. If you visit just as the lake thaws, the water is actually more like a regular lake colour!
If you want to ski across the lake or ice skate, typically you have to wait until December for the ice to be thick enough to cross safely. Typically the lake isn't super thick until much later in the winter (late Jan or Feb).
The final consideration is the crowds. May and November tend to be our off season, so these are the least busy times to visit. If you visit between July and September, expect very busy crowds and extremely busy parking lots. If you visit on a weekend, expend to wait in traffic or to be ushered towards the overflow parking back down by the highway.
When is the best time of day to visit Lake Louise?
Again, it depends on your goals here. For photographers, I'd definitely recommend sunrise. This is when you'll get the best reflections on the lake and you'll experience the least crowds. It's also when parking is the easiest.
If you arrive after 10am, expect to be there with most of the tourists and crowds and to have a somewhat worse experience.
Evenings are also nice, because the sun sets on Victoria Glacier in the distance. However, the light disappears behind the mountains well before sunset, so the brilliant bright milky green colour won't be there much later than an hour or two beforehand.
Other things to do nearby
Lake Louise is just one area in the rockies, and there are actually plenty of other things to do nearby (as long as you have a vehicle). Here are a few other suggestions!
There are endless things to do nearby! You'll have to visit again 🙂
How to get to Lake Louise
Follow the Trans Canada Highway west from Banff or Calgary, and you'll eventually reach signs for Lake Louise.
From Banff, Lake Louise is around 45 minutes drive, from Calgary it's approximately 2 hours. If you need gas, make sure you fill up in Calgary. Things get increasingly more expensive as you near Lake Louise.
What makes Lake Louise such an amazing colour?
Lake Louise is a glacial lake, meaning it's fed by melting glaciers above.
As a glacier grinds through the rock beneath it, it picks up sediment called rock flour. Eventually this is transported into the glacial lakes as meltwater, and this rock flour absorbs all colours except that bright blue colour, which is reflected into your eyes.
As the concentration of rock flour gets higher, the water gets milkier and milkier, until eventually it becomes a grey sludge kind of colour. You can see this kind of lake in places like Iceland!
The different concentrations of rock flour in different lakes are what makes all the lakes different colours!, and that's why the colour changes drastically when direct sunlight reaches the lakes.
Lake Louise is our most popular glacial lake, along with Moraine Lake, but there are dozens more dotted around the Canadian Rockies. Waterfowl Lakes, Peyto and Bow Lake, are just some of our other popular glacier fed lakes!
Parking at Lake Louise
Parking at Lake Louise is extremely limited. There is a small carpark and overflow car park directly next to the Fairmont, but this tends to fill up extremely early in the morning. If you arrive after 9.30 or 10am, forget it.
Once this car park is full, you'll be waved through by the parking attendants and will be directed back down to Lake Louise Village. There are no places to U-turn and try again, so if there are any signs up at all that say the parking lot is full, trust them and park in one of the lower parking lots.
If you ignore the parking full signs and choose to wait in the traffic, trust me, you're only wasting your own time. You might wait in line for an hour, only to be turned around and sent back down to the bottom.
Alternative parking areas
Great Divide Parking Lot
Unfortunately the Great Divide Parking lot is now permanently closed to cars in the summer.
Lake Louise Village
Lake Louise Village is the next best place to park after the Great Divide parking area. Park in the village and take transit up to the top. During COVID, the buses may not be running, in which case, it's a long, steep walk up to the lake. It sucks, but it may be your only option.
Lake Louise overflow
The Lake Louise overflow is now the Lake Louise Ski Resort parking lot. Buses leave from there every few minutes, so this is probably the best way to access Lake Louise on a busy day. Save yourself an hour of sitting in traffic, only to be turned around!
You might still have to sit in traffic though anyway, because so many people ignore the parking full signs and the traffic often backs up down the road. The shuttle bus costs a few dollars per person, but isn't running this year due to COVID.
Pin This!